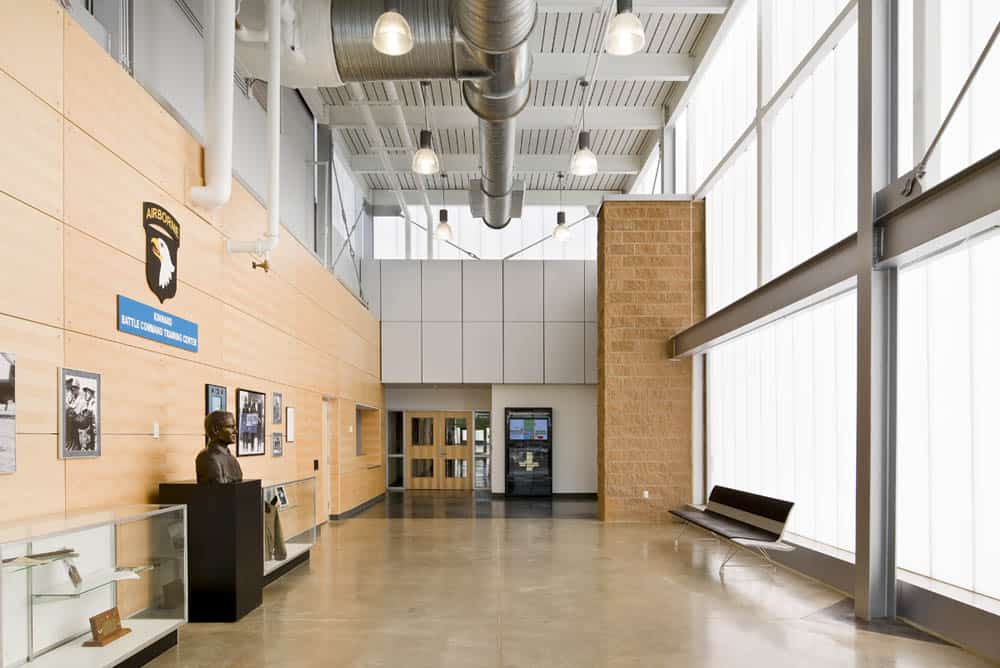 WALLS, WINDOWS, CANOPIES, AND SKYLIGHTS for MILITARY APPLICATIONS
EXTECH's daylighting systems deliver the economical durability, sustainable construction, and adherence to strict building standards demanded by applications built for military use. We have provided systems for many military structures, and are well-versed in the flexibility and attention to detail required when designing buildings for the armed forces. Our systems follow requirements set forth by the Unified Facilities Criteria (UFC), requirements of the U.S. Army Corps of Engineers (USACE), Navy Facilities Engineering Command (NAVFAC) criteria, and Air Force Civil Engineer standards. Our systems have the added value of being made in the U.S.A., manufactured in our Pittsburgh, PA factory.
ROBUST TRANSLUCENT WALLS FOR TRAINING CENTERS, SHELTER STRUCTURES, AND DoD MEDICAL & EDUCATION FACILITIES
Our LIGHTWALL translucent wall systems were designed with the UFC in mind. Not only do they offer superior resilience outside of standoff distances, but they provide daylighting, which can help military structures reduce their energy consumption. Our systems are fabricated with 100% recyclable polycarbonate and aluminum framing, making them a highly sustainable building material (note: several of our systems can also accept glass).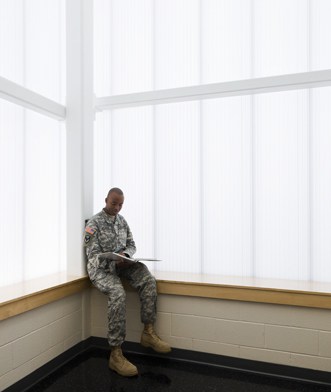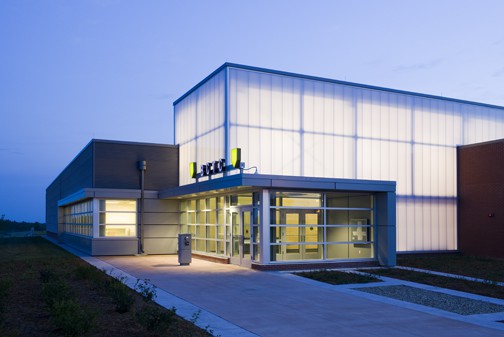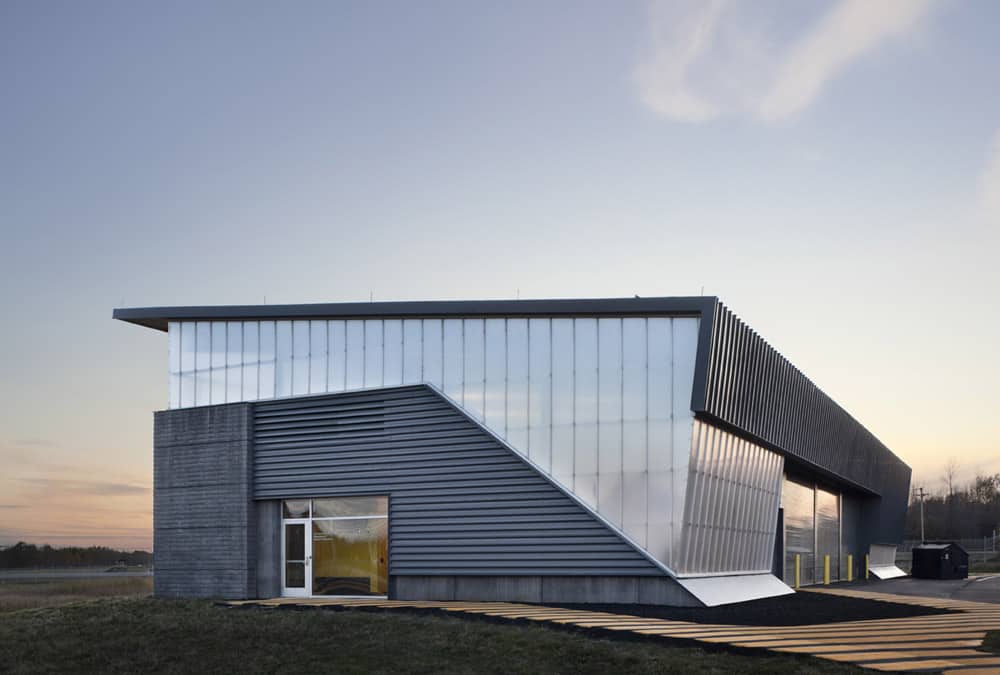 The LIGHTWALL 3440 polycarbonate interlocking wall system has been used in multiple military projects, including National Guard training centers, research and development facilities, and land ports of entry. The daylighting benefits coupled with the robust durability offered by our LIGHTWALL systems make our LIGHTWALL systems an optimal choice for applications seeking energy-savings, cost-savings, and long system lifespans. Additionally, the flexibility of our systems allow for quick and easy changes during the pre-design phase – our systems are fully customized to meet the needs of the structure and can be adapted to meet specific, niche requirements.
Our interlocking polycarbonate translucent walls can be customized to be easily broken down and reassembled, making them ideal for temporary structures that need to be relocated.
Should you need a translucent wall that offers superior resilience to weather and combatant intrusion, our LIGHTWALL 3440FE was created and tested to resist forced entry.
The practical functionality of our systems does not override the aesthetic possibilities. LIGHTWALL's framing is available in a variety of finishes, and the polycarbonate glazing comes in many different colors and translucencies. Additionally, we can incorporate infrared-blocking glazing into our systems to reduce solar heat gain inside the structure.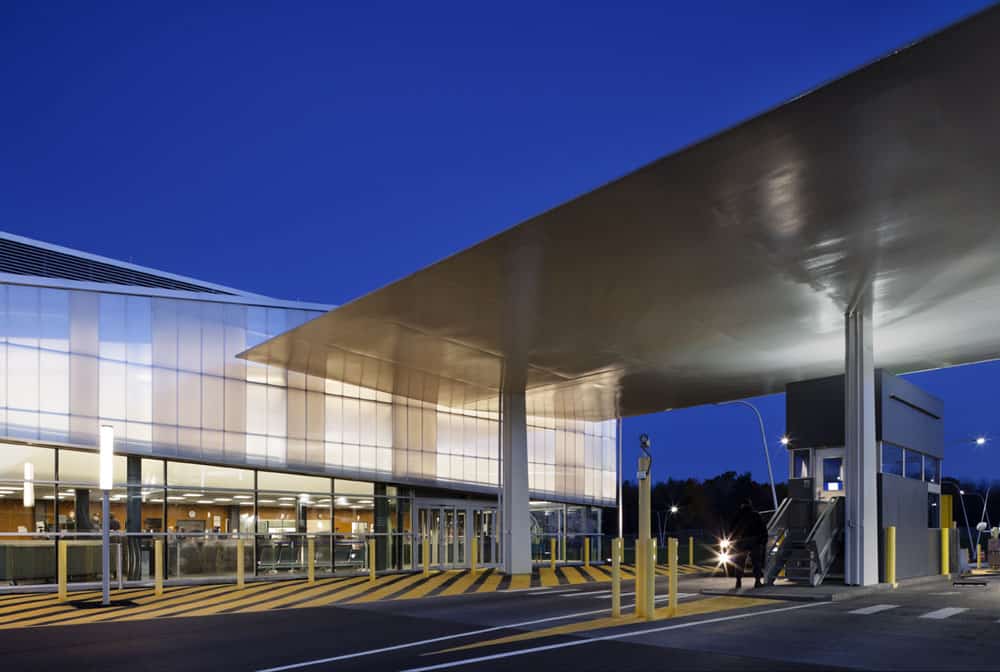 IMPACT-RESISTANT SKYLIGHTS FOR MILITARY RECREATION CENTERS, REPAIR FACILITIES, & ADMINISTRATIVE OFFICES
EXTECH's SKYGARD skylight systems provide overhead daylighting and have been used in military applications to maximize internal illumination, reduce operating costs, and deliver energy-efficient upgrades without breaking the bank. Designed to meet requirements outlined in the UFC, they are highly impact and leak resistant, have superior load-bearing capability, and offer credits toward LEED certification. Due to the lightness of the materials, SKYGARD substantially reduces installation labor.
Our SKYGARD skylight systems are based on a patented system of overlapping joinery and internal gutters that deliver an extremely leak-resistant skylight. They have been subjected to a complete battery of air, water and structural testing, delivering superior performance numbers. Both our SKYGARD 3300 and 3700 system can incorporate glass and cellular polycarbonate skylight glazing to meet your project's specific requirements – when fabricated with polycarbonate, glare is diminished, making them ideal for use on air force bases. The SKYGARD 3700 can be fabricated as single slope, A frame, pyramid, ridges with hipped edges, custom, and vertical type skylights.
Our SKYGARD skylights can be customized to integrate into most applications, and are adaptable for retrofits. Their sustainable properties can be further enhanced by incorporating PV solar panels into the skylight glazing.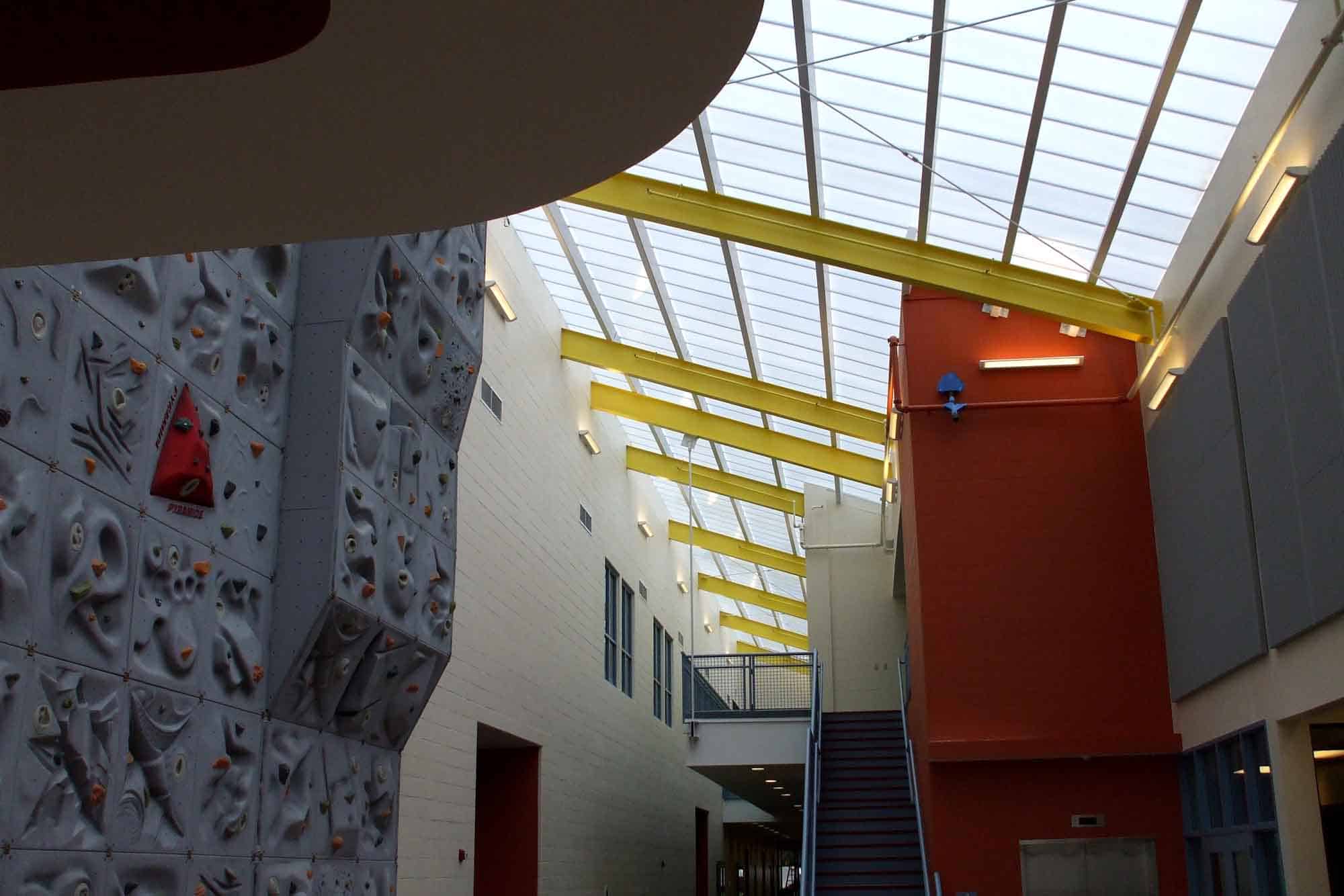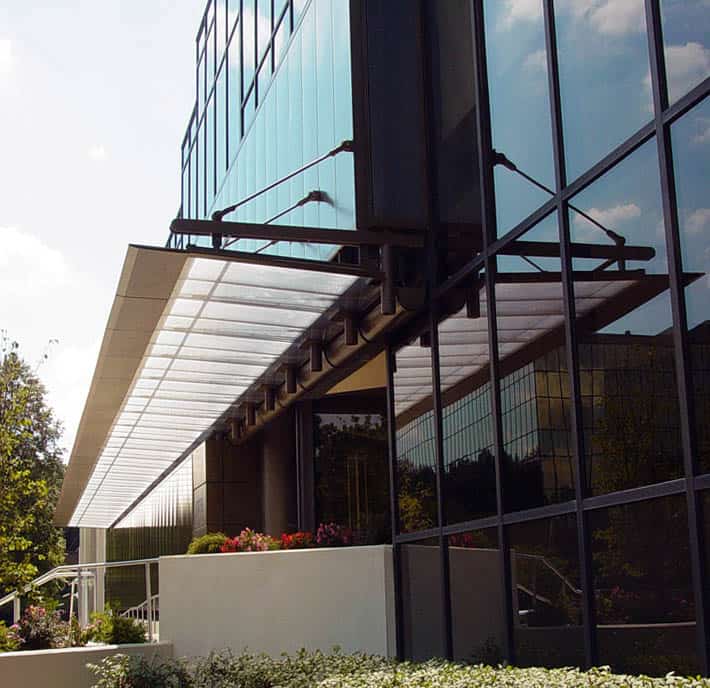 CANOPIES FOR MILITARY SPORTS CENTERS, OUTDOOR WORK AREAS, AND VEHICLE PROTECTION
EXTECH's SKYSHADE canopy systems deliver high-durability, UV protection, and a long system lifespan, among other benefits. They are built with low-friction gasketing, proper weep hole placement, and sill blocks that protect the lifespan of the glazing and framing. Available in three different system types and fully customizable, the SKYSHADE provides shading and protection for outdoor work areas that need maximum protection from the sun, superior load-bearing and impact-resistance for canopy systems around administrative facilities, and coverage for areas devoted to outdoor recreation, such as basketball, tennis, and handball courts.
SKYSHADE is available as a standing seam, surface mounted, or aluminum framed system, with a wide choice of colors and translucencies. They are engineered to be minimalist while robust – they do not mandate additional hardware and are extremely easy to install. Because they are fully fabricated (as all EXTECH systems are), they are simple to install in the field and chances for human error during installation are removed. The polycarbonate glazing used in our canopy systems can be cold-formed to a curved radius, and is substantially cheaper than curved glass.
VENTILATING INDUSTRIAL WINDOWS FOR MILITARY MAINTENANCE FACILITIES, TECHNOLOGY WAREHOUSES, AND VEHICLE BAYS
EXTECH's TECHVENT 5300 has helped many applications increase air flow, maximize energy efficiency, and harness natural daylighting. This top-hinged industrial window system is designed with the capability to stay open during normal rainfall so it can provide ventilation regardless of weather conditions. It is an ideal window system for military maintenance facilities, warehouses, vehicle bays, and aircraft hangars.
The TECHVENT 5300 can be installed in an individual punched opening or in continuous "wings" of up to 150 feet. The system can be operated with optional manual or electronic control systems. The TECHVENT 5300 has been in continuous use for 40+ years, and is ideal for structures that require the extreme durability of polycarbonate glazing.
The TECHVENT 5300 has had proven benefits in technology centers that must accommodate high cooling demands, while meeting stringent sustainability standards. The system's motorized control system can be tied into the facility's (or any other structure's) HVAC system, allowing the windows to instantly provide ventilation as the HVAC system requires it. In this way, the TECHVENT 5300 can assist in achieving optimal Power Usage Effectiveness (see below case study: Data Center for a Leading Global Technology Provider for more details).
The massive ventilation of TECHVENT also helps with indoor air quality and meeting occupational health, safety, and welfare considerations of the UFC.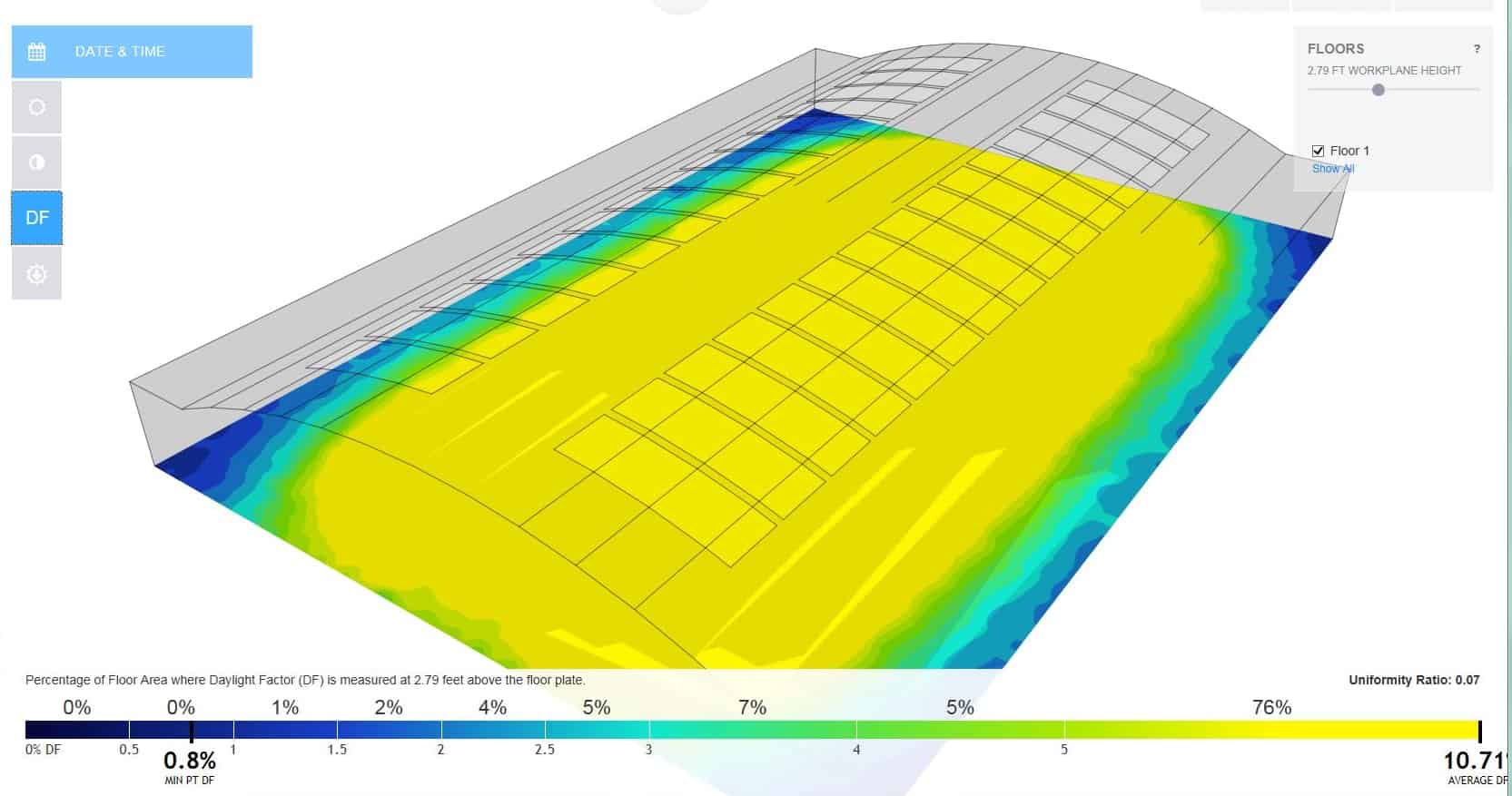 MILITARY DAYLIGHTING STUDIES
EXTECH can deliver a daylighting study for any military application to ensure we create a system that harnesses the optimal amount of daylight, prevents solar heat, and prevents glare. The key to maximizing the benefits of daylighting is to partner with us early in the design process while improvements to the layout can be easily made and potential savings in building structure can be incorporated.
Our engineers simulate designs in a virtual setting that analyzes the placement of the structure and considers the times of day when internal activities occur. This analysis predicts how much natural daylighting can be realized, and allows architects and lighting designers to decide how much supplemental electrical lighting is necessary.
The analysis begins with us entering a CAD model of your building into the analysis software. We then orient the building in virtual space to align with its true site placement. The software then simulates the motion of the sun through the sky throughout the year, and records the cumulative amount of daylighting at various planes of height inside of the building. Finally, we enter various glazing choices and material selections into the model, and repeat the analysis, to determine which options are best.
Features & Benefits
ECONOMICAL, FLEXIBLE, & SUSTAINABLE
EXTECH's daylighting systems are built for long-lasting value and a minimal need for ongoing maintenance – this results in long-term cost-savings. They are extremely impact-resistant, easy to maintain, and their full fabrication saves on installation labor. Additionally, they are engineered with components that contribute to robust durability in the face of inclement weather and exterior forces.  Polycarbonate systems offer a longer system lifespan than glass and fiberglass reinforced panel systems.
Our systems can be adapted to a number of conditions and incorporate different glazing types, so if you should find that we do not have a system to meet your needs, we can quickly customize our designs as needed.
The 100% recyclability of the polycarbonate glazing and aluminum framing lend to sustainable building design, as does the daylighting, which can help military structures substantially save on electricity costs.
RETROFITS & HISTORICAL PRESERVATION
Our systems are favored for retrofits because of our engineering design and detailing capabilities – we can easily customize a system to meet your requirements, or solve specific installation challenges. This makes our systems ideal for retrofits and additions to existing structures.
EXTECH is experienced in retrofit projects that need to maintain the historical aesthetic, and we are familiar with the Army Historic Preservation Program. We have created custom facades that mirror the look of steel sash and corrugated wire glass facades, and are experienced working with historical materials such as timber, brick and mortar, and concrete.
Have a question? Ask one of our daylighting experts!
BID PACKAGE NARRATIVES
For architects and design firms bidding on Department of Defense or governmental projects, we can assist with the narratives required in the bid package. We also create detailed and easy to understand shop drawings, installation guidelines, extensive product information, and appropriate third-party test reports to confirm performance.
Additionally, EXTECH offers mock-ups during the bid process and before construction. Design teams often find mock-ups useful for lighting studies, or to review how our systems will integrate into adjacent elements. Installers find it beneficial to have a mock-up on-hand to better visualize how each system component is installed.
MILITARY CLEARANCES
Our sales, engineering, architectural, and installation teams have worked on multiple projects for the Department of Defense that required security clearances for team members.  We maintain these clearances and are familiar with security procedure compliance.