EXTECH is committed to collaboration, innovation, and exceptional engineering.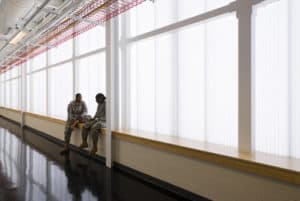 The Benefits of Daylighting
Today's new emphasis on daylighting systems in architecture is proof of daylighting's many advantages. One of its most attractive benefits is the energy savings - daylighting systems reduce electric lighting loads and related cooling loads. Additionally, solar heat gain during cooling load periods can be reduced by using heat-reflective translucent systems.
The power of daylighting goes beyond energy savings - it delivers positive effects on mental and physical health and has been proven to increase productivity.
Latest from our News & Blog
EXTECH/Exterior Technologies, Inc., headquartered in Pittsburgh, has purchased the assets of Martin Metal Designs, located in Las Vegas. The acquisition expands EXTECH's capabilities in its core business of daylighting systems and custom facades.  It will... Read More