Our LIGHTWALL 3100LS translucent wall system delivers all the benefits of daylighting façades (energy savings, sustainability, healthy natural lighting) while being capable of long spans with minimal structural support. The system provides a continuous wall of daylight that replicates the external appearance of a channel glass system.
The EXTECH series 3100LS is comprised of a patented interlocking clamping structural mullion designed for high wind load and long span conditions. This system uses R3.8 standing seam cellular polycarbonate glazing panels for outstanding durability, and features an internal gasketed water stop for long term performance. It can be utilized in a wide variety of environments and for a range of structures.
The LIGHTWALL 3100LS has been tested for hurricane impact and windborne debris (ASTM E-1886 & E-1996) at clear spans of 8 feet. To our knowledge, this is the longest-spanning windborne-debris-tested translucent glazing system on the market.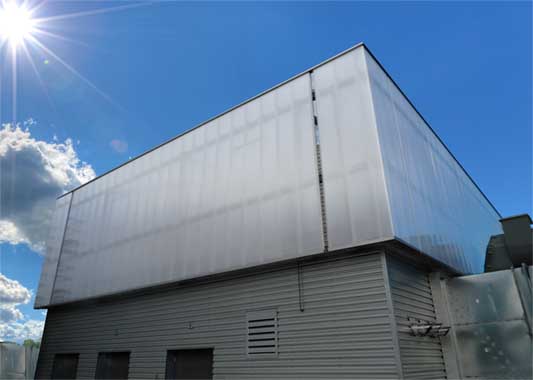 Further benefits and details 
Internal gaskets stop water for long term performance
Spans up to 12 meters (39') high, without leak prone intermediate horizontals
Designed for long span and high load applications
Easy connection to a variety of horizontal building girt configurations
Thermally efficient glazing R-3.79 (U=0.264)
Glazing available in clear or a variety of colors
Fully recyclable system with available LEED points
Can be installed from either the exterior or interior side of the building
Replaceable lightweight glazing panels are only 0.065 lbs/sf
Large missile impact tested to 8' spans
Manufactured in the U.S.A.
Order Sample
Case Study: ThyssenKrupp Steel Mill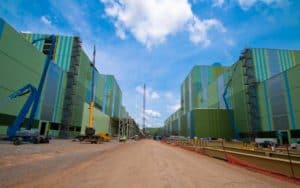 Huge Savings without Sacrifice by using EXTECH's LIGHTWALL 3100LS
Project: ThyssenKrupp Steel Mill
Location: Calvert, AL
System: LIGHTWALL 3100LS
German steel giant ThyssenKrupp needed to cut costs in a big way. Having announced they'd be establishing a United States presence in Calvert, Alabama and bringing 2,700 jobs to the region, they needed to build a 150-acre steel mill with a roof more than 15 times the size of the Superdome's lid. With a budget of $3.7 billion, the construction itself was set to create as many as 29,000 jobs.
But the original design shattered ThyssenKrupp's building exterior budget – the design team has specified "channel glass", an expensive high-end glass material that is common in Germany (pricing ranges from $60 sq/ft to $100 sq/ft). Within months of breaking ground, ThyssenKrupp came to EXTECH in the hopes that our polycarbonate systems could deliver the sleek style and daylighting capabilities of their original design, for less cost.
Meets ASTM E-84 test for Class A material
Meets ASTM E-1886 and E-1996 test for hurricane impact / windborne debris at clear spans of 8 feet