PARKING
FACADES FOR PARKING STRUCTURES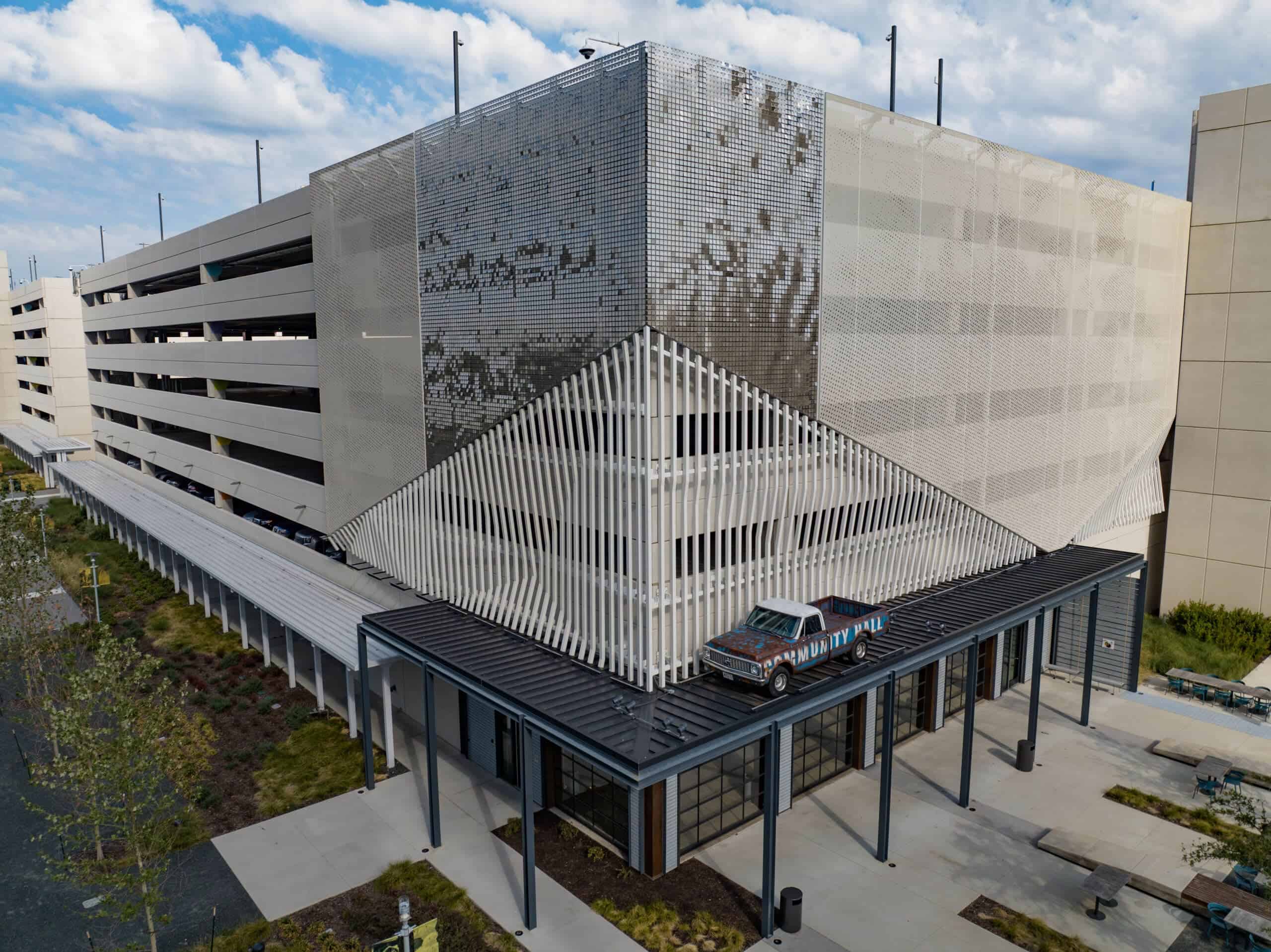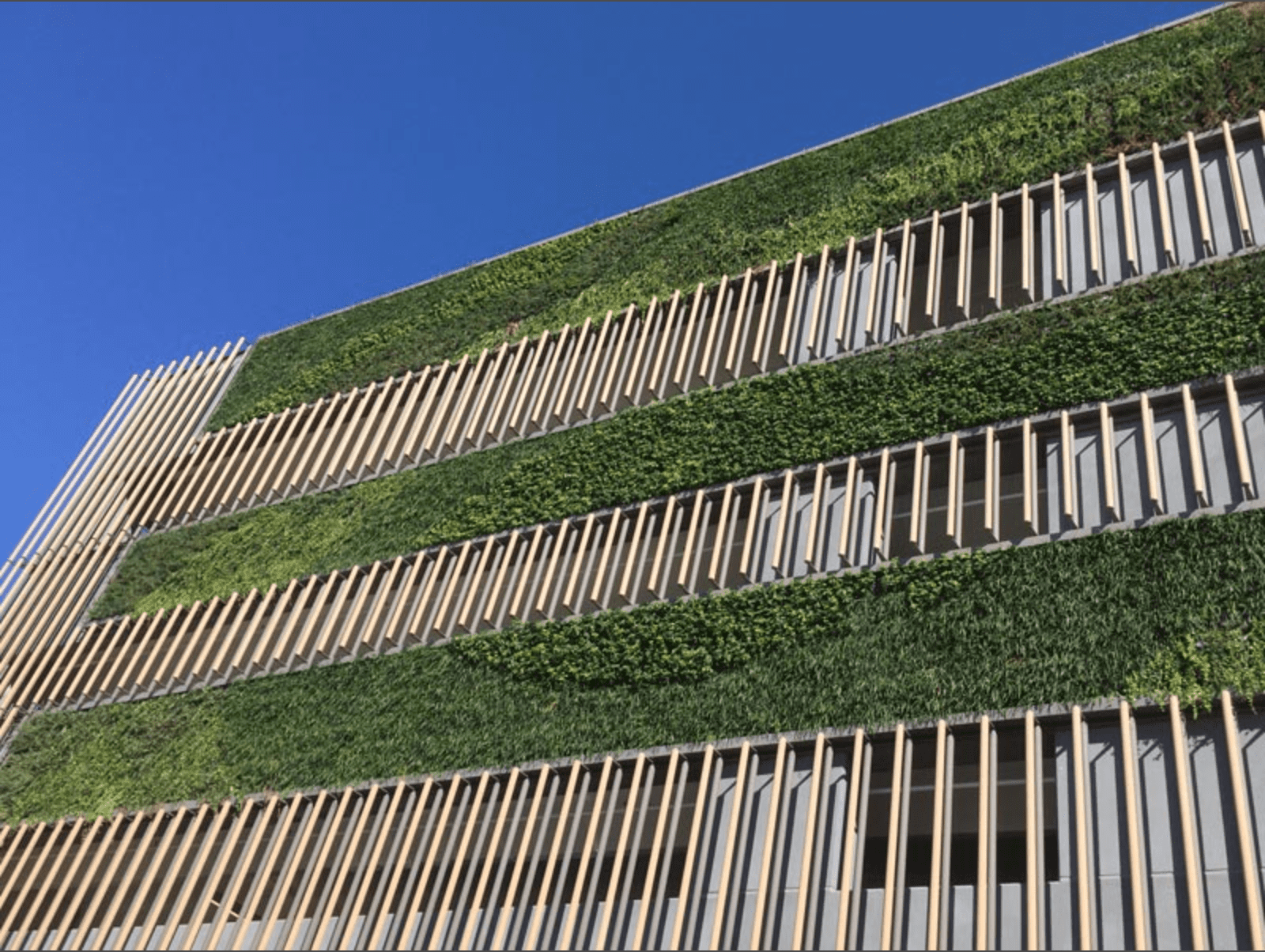 EXTECH specializes in providing safe, functional façade solutions for parking facilities. Our systems are engineered to fit each specific application with pedestrian safety, code compliance, performance, and aesthetics in mind.
KINETICWALL WIND-DRIVEN FACADE
EXTECH's KINETICWALL is an optimal façade system for standalone or mixed-use parking facilities because it delivers durability, air flow, easy installation, and simple maintenance. Additionally, it permits visibility from the inside while preventing the nuisance of interior lighting spillage.
The KINETICWALL is a customizable system that allows for design freedom to create a unique, artistic, functional façade. Made of "flappers" (typically 6" x 6" aluminum elements) attached to stainless steel rods, the KINETICWALL responds to wind currents and ripples to create the look of rolling waves. The system is customizable and can be designed to accommodate square or curved polycarbonate, glass, aluminum, or steel flappers, and can be finished with color-shifting paint.
The KINETICWALL is designed and tested for long-term performance, and uses spacers designed to prevent collateral noise from flappers. The KINETICWALL allows facilities to meet ventilation codes while providing solar screening.
While EXTECH has standardized suspension systems, specific details and selected materials based on extensive testing and years of experience, each is fully customizable to meet its environment and budget as well as the project's aesthetic and performance goals.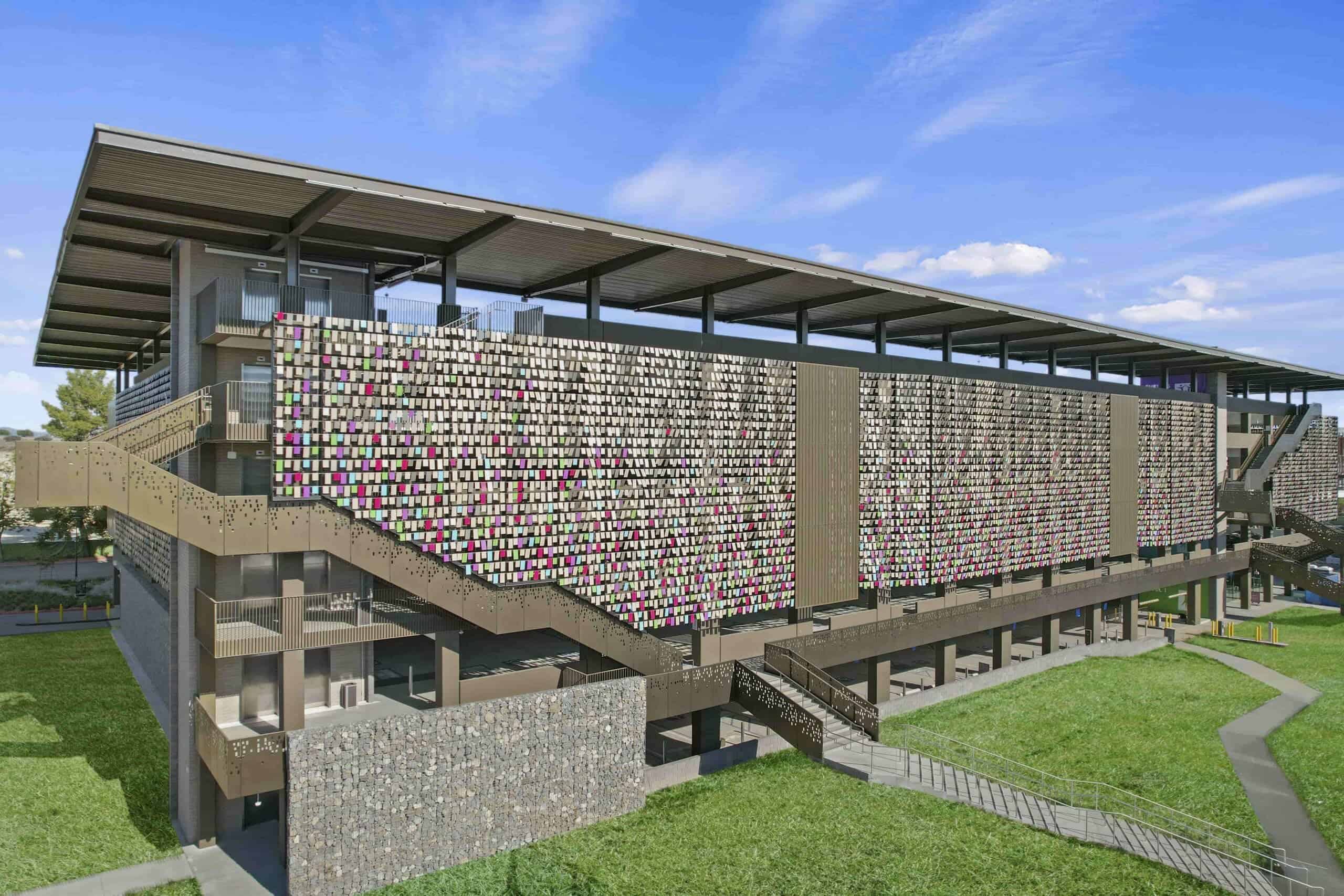 The need for parking facilities in urban areas continues to increase. Being that these structures are interwoven with the community, there is a demand from municipality planning boards that they be visually pleasing. Arts in Transit and percent-for-art regulations are one way communities aim to achieve aesthetically interesting parking facilities. The visual aspects of the KINETICWALL helps municipalities meet Arts in Transit and percent-for-art compliance, while also delivering enchanting architecture for city-dwellers.
One of our most talked about projects is the KINETICWALL for the Massachusetts Port Authority (Massport) parking expansion at Logan Airport. One of the reasons the KINETICWALL was chosen as the façade system for this parking garage was because of its dynamic and eye-catching qualities. Massport realized the garage would be seen by travelers from all over the world, so they wanted to design with a system that would be aesthetically interesting while structurally sound.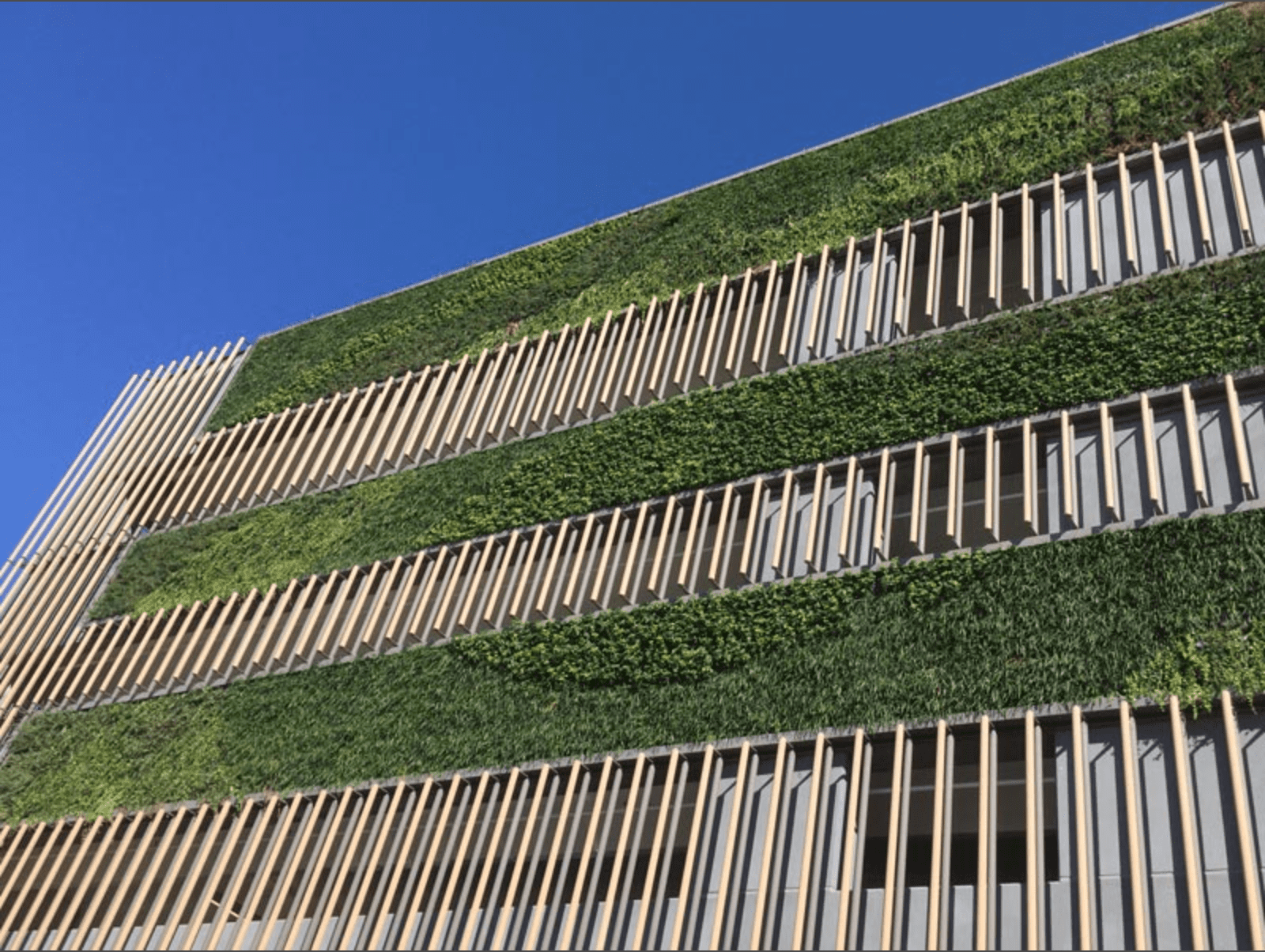 We've solved many design challenges with custom solutions through engineering custom façades.   One example is a parking façade comprised of vertical tubing in Virginia, with a paint finish designed to mimic the appearance of terracotta. Each tube is connected to the edge of floor slabs, with a unique extrusion designed for deflection and thermal movement.  We have used GEOLAM to emulate the appearance of bamboo in a parking structure, and used other materials to customize parking facilities, bringing to life an architect's vision.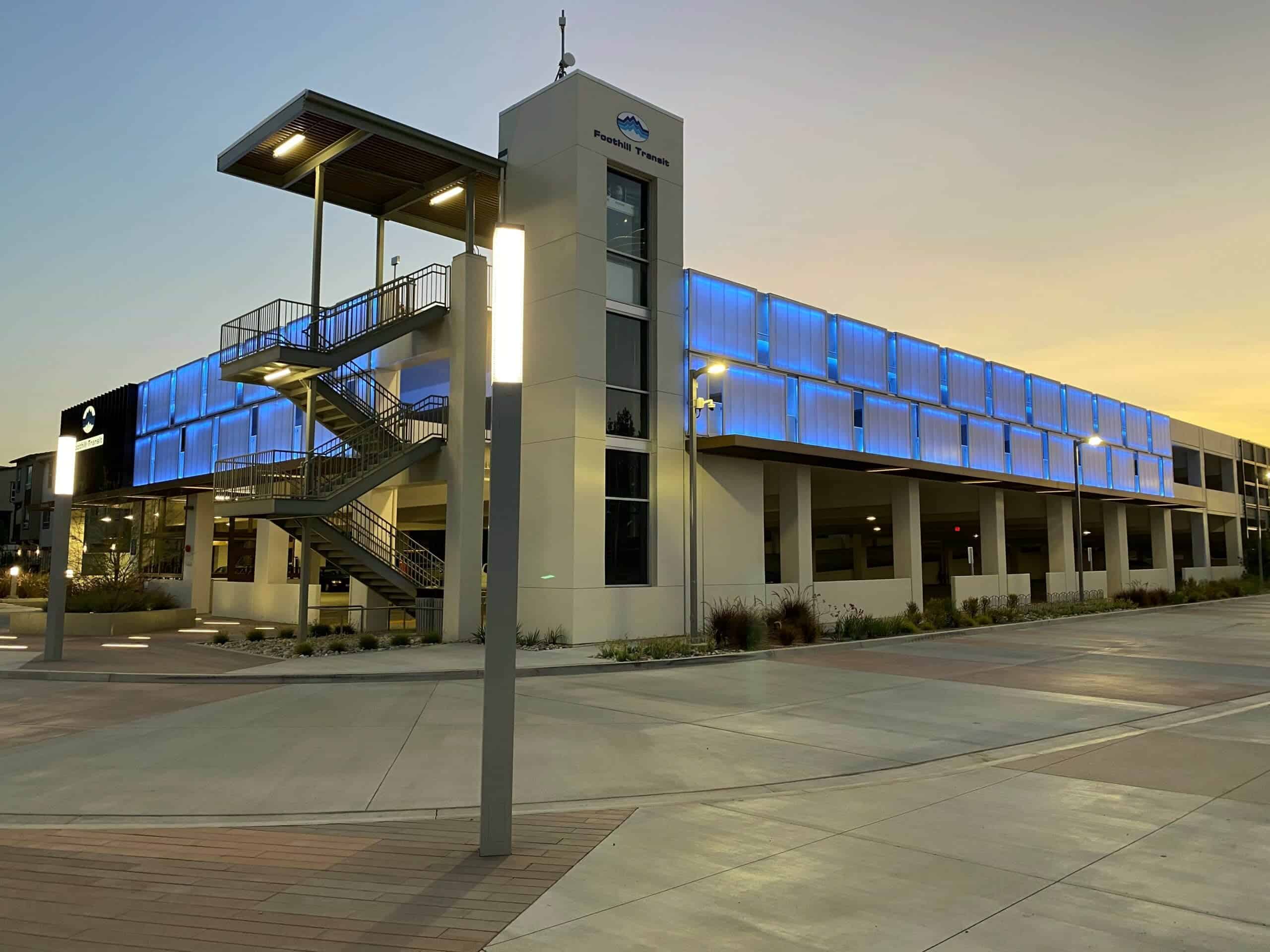 POLYCARBONATE PARKING FACADES
EXTECH's polycarbonate systems can be integrated into parking structures, creating a secure and visually appealing environment. Our polycarbonate systems are adaptable to wall openings and other field conditions. Our polycarbonate systems are ideal for parking structures because of their UV resistance, durability, and design flexibility.
For an extra layer of security, translucent polycarbonate screen walls can be backlit to transform a structure at night. . Polycarbonate is an excellent choice for backlit glazed façades because of its light diffusing qualities, color brilliance, low flammability, and insulating value.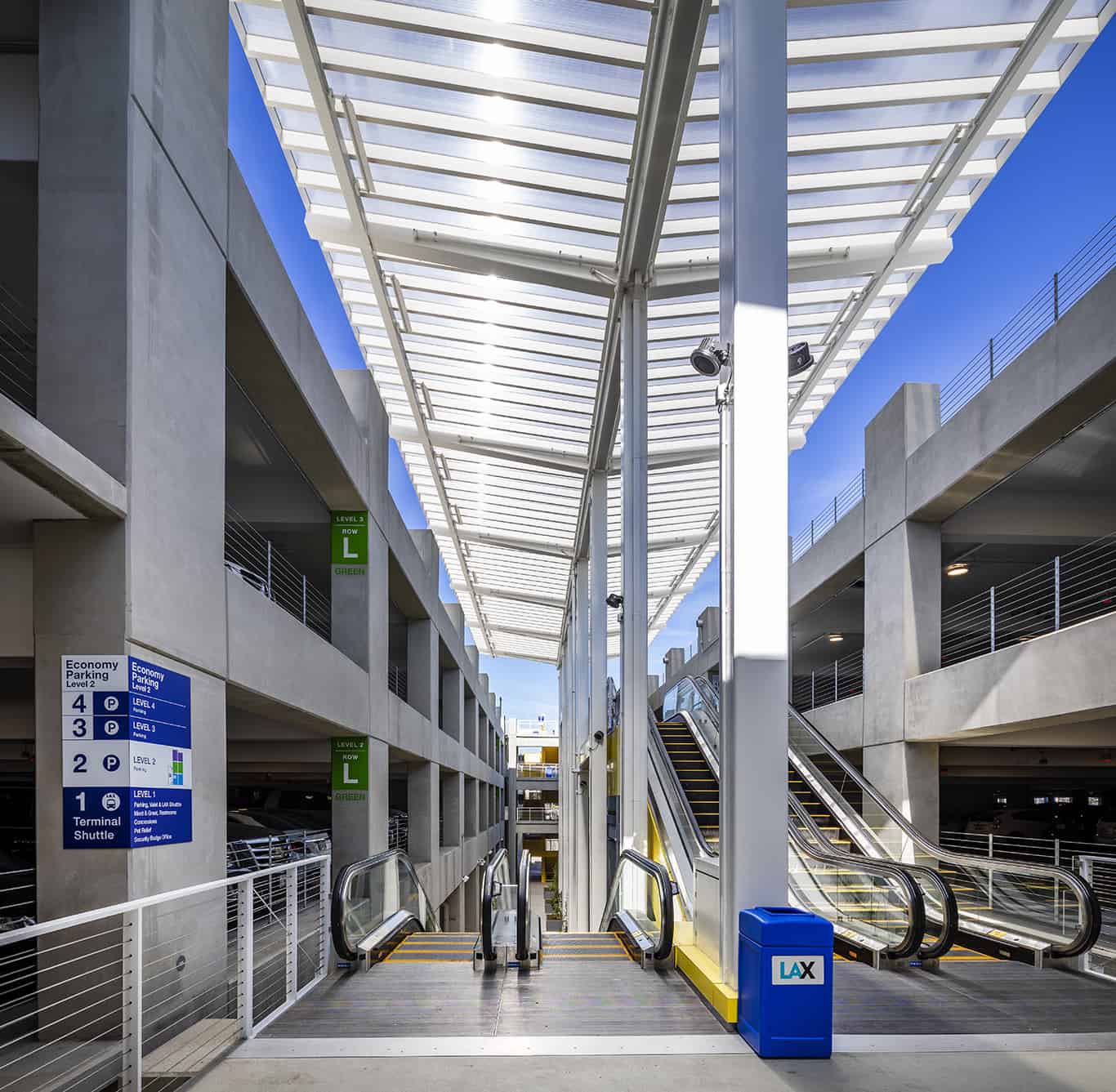 PARKING CANOPIES
SKYSHADE canopies offer the durability and long lifespan needed in parking applications. They hold-up in wind, rain, sleet, and snow, and resist UV deterioration. SKYSHADE canopies are designed with lightweight, fully fabricated components that install easily. This makes for quick project deployment, simple maintenance, and cost-savings.
The SKYSHADE can be used to cover walkways, escalators, or serve as standalone canopies at parking facilities. They can feature standing seam cellular polycarbonate, solid monolithic polycarbonate sheets, flat-sheet multiwall polycarbonate, or glass. Polycarbonate comes in a variety of translucencies and colors, tailored to the custom application, and reduce glare.