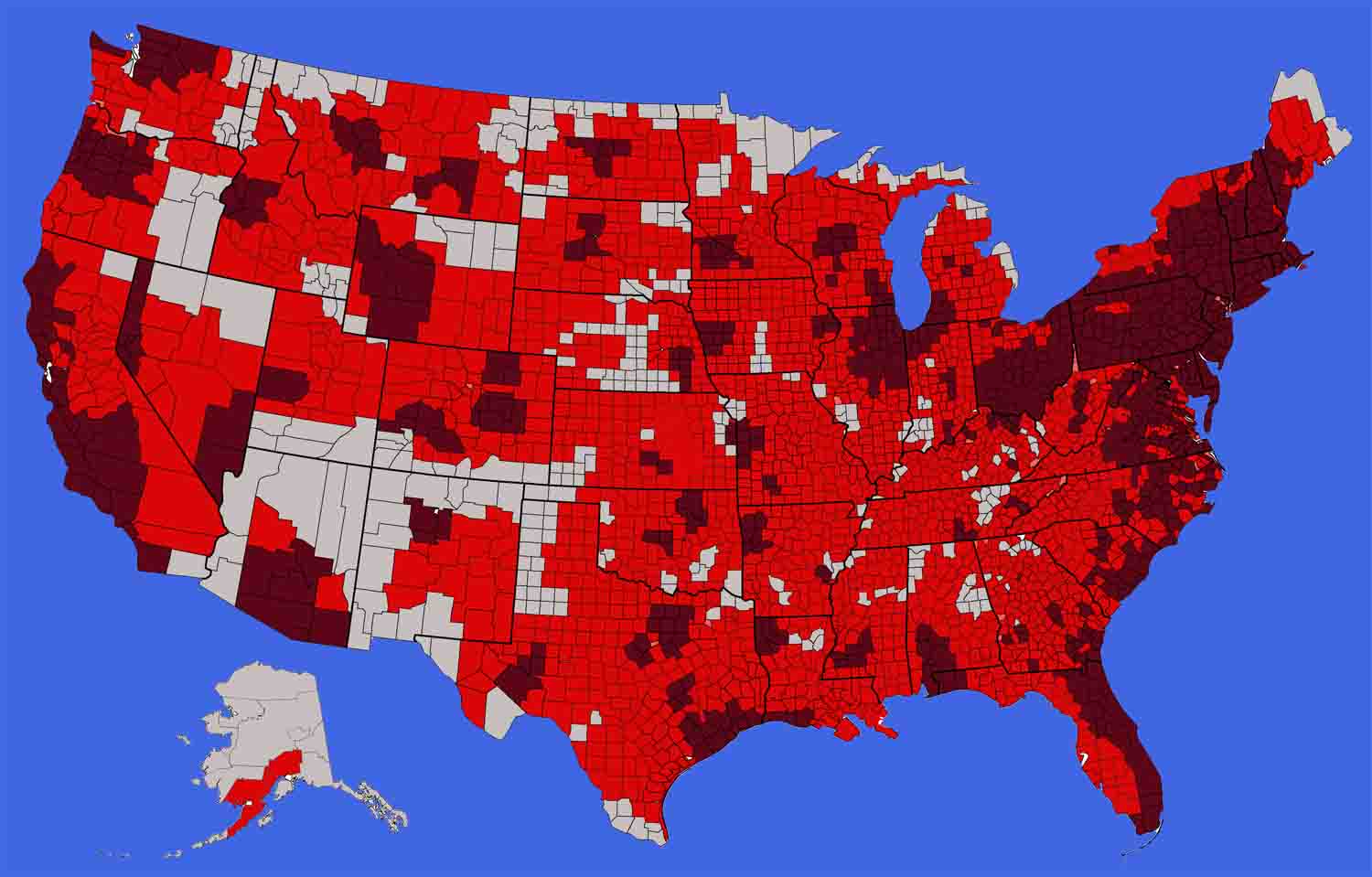 In over 40 years of experience, EXTECH has developed a large geographical footprint and worked on projects throughout the United States and internationally. Our systems have been used in every climate - the dry desert of Arizona, the icy coasts of Washington, the hurricane-blown shores of Louisiana, the harsh winters of New England, and more.
We have compiled case studies for some recent projects that are displayed on the below map. Click on a map marker or project in the sidebar to read an in-depth discussion of one of EXTECH's latest architectural solutions.

EXTECH Case Studies
Case Study: Ally Charlotte Center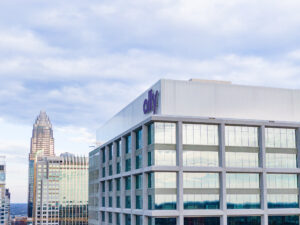 Ally Charlotte Center Caps Office Building With EXTECH's LIGHTWALL 8000
Project: Ally Charlotte Center
Location: Charlotte, NC
Architect: Little Diversified Architectural Consulting
System: LIGHTWALL 8000
Completed in May 2021, Ally Charlotte Center's new, contemporary, Class A mixed-use office tower rises 26 stories and spans 750,000 square feet. Positioned at the gateway to Uptown and at the South End entrance to the burgeoning Stonewall Corridor, it adds a new dimension to the evolving skyline in Charlotte, North Carolina. Read more  
Case Study: 5th & Atwood Transit Canopies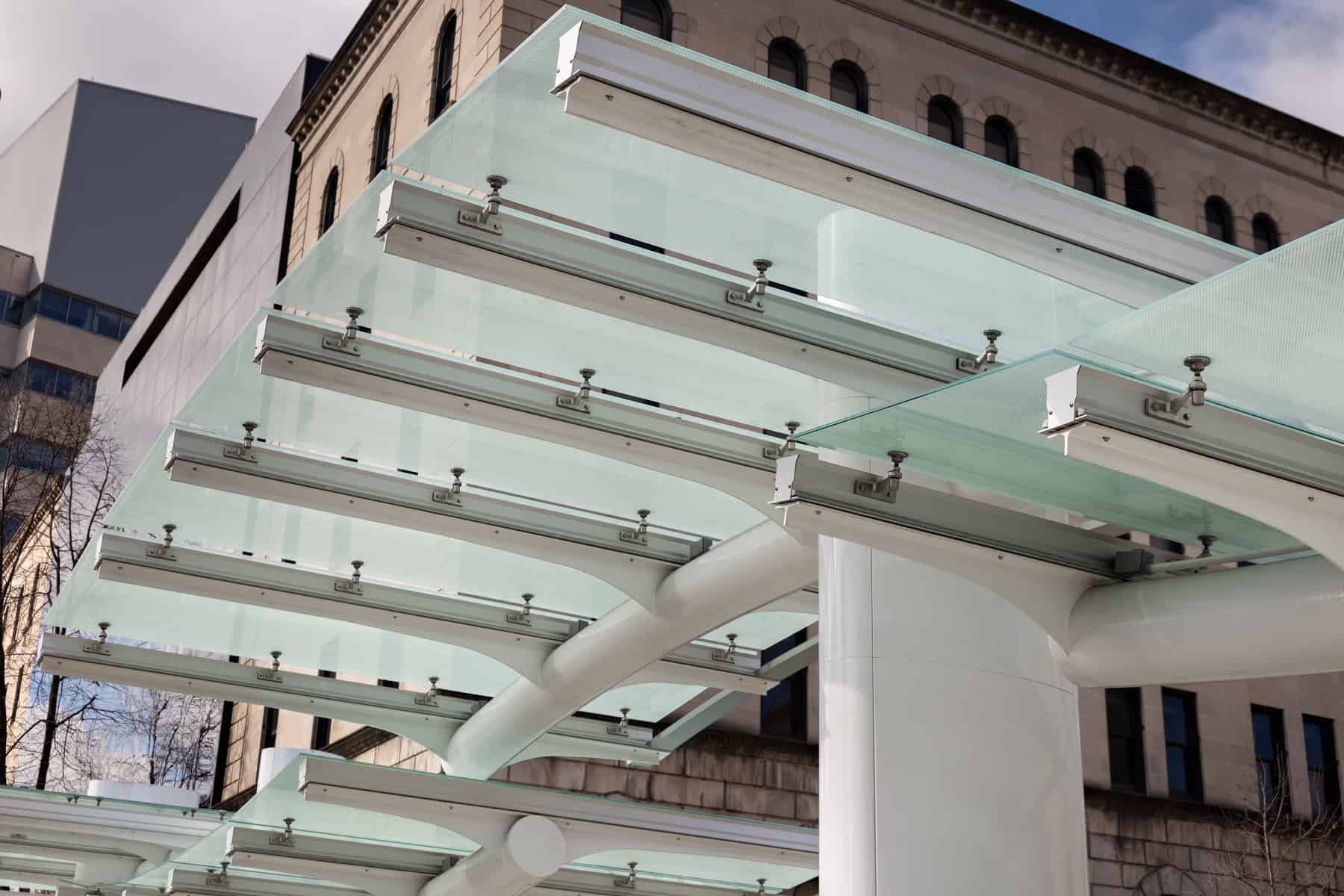 Point Supported Glass Canopies
Project: 5th & Atwood Transit Canopy
Location: Pittsburgh, PA
Architect: Maines and Associates
System: Custom
The new transit station at 5th Ave. and Atwood St. in Pittsburgh's Oakland neighborhood features a glass canopy and custom aluminum framing system engineered and fabricated by EXTECH. The station's canopy shelters commuters from rain and snow, while allowing in natural light and views. Read more  
Case Study: Desert Aviation Center KINETICWALL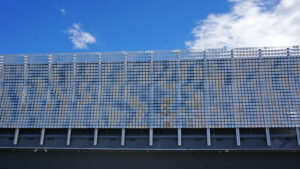 Desert Aviation Center KINETICWALL
Project: Desert Aviation Center Remodel
Location: Las Vegas, NV
Architect: Carpenter Sellars Del Gatto Architects
System: KINETICWALL
Built in the 1970s, the Desert Aviation Center at the North Las Vegas Airport (VGT) offers convenient office space, classrooms and adjacent hanger space for its tenants. It is the first building seen by people arriving at the north entry of the state's third-busiest airport. The center's concrete and steel construction served as a functional, but indistinctive structure. The owners invested in a substantial renovation, transforming the property into a high-profile building that leaves a memorable impression.  Read more  
Case Study: ThyssenKrupp Steel Mill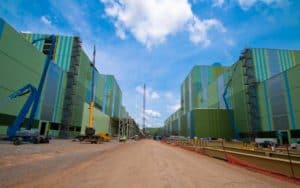 Huge Savings without Sacrifice by using EXTECH's LIGHTWALL 3100LS
Project: ThyssenKrupp Steel Mill
Location: Calvert, AL
System: LIGHTWALL 3100LS
German steel giant ThyssenKrupp needed to cut costs in a big way. Having announced they'd be establishing a United States presence in Calvert, Alabama and bringing 2,700 jobs to the region, they needed to build a 150-acre steel mill with a roof more than 15 times the size of the Superdome's lid. With a budget of $3.7 billion, the construction itself was set to create as many as 29,000 jobs.
But the original design shattered ThyssenKrupp's building exterior budget – the design team had specified "channel glass", an expensive high-end glass material that is common in Germany (pricing ranges from $60 sq/ft to $100 sq/ft) Read more
Case Study: Metrotower III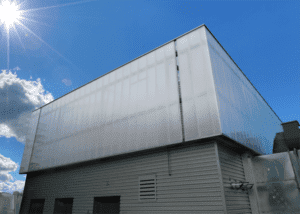 The LIGHTWALL 3100LS withstands extreme wind loads atop Metrotower III
Project: Metrotower III
Location: Burnaby, BC
Architect: Stantec Architecture
System: LIGHTWALL 3100LS
Stantec Architecture was hired to design a series of office buildings for Ivanhoe Cambridge CDP – three towers located in the heart of Burnaby, British Columbia's metro center. The towers would be comprised of over 616,000 square feet, 28-30 stories high offering panoramic views of the city. Stantec Architecture designed the third structure, Metrotower III, to be a LEED Platinum Certified building Read more
Case Study: Boston Logan International Airport Hangars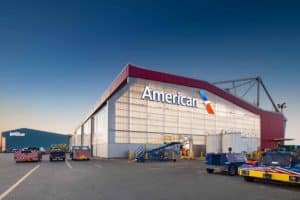 A Speedy and Modern Retrofit with EXTECH's LIGHTWALL 3440
Project: Boston Logan International Airport Hangars
Location: Boston, MA
Architect: Fennick McCredie Architecture
System: LIGHTWALL 3440
The Massachusetts Port Authority needed to renovate two maintenance hangars at Boston's Logan International Airport. Originally constructed with metal panel walls and steel-sash glass windows, the New England winters and harsh aviation environment had taken a brutal toll on the buildings. The project called for glazing materials that could withstand the location while delivering good thermal performance, optimal daylighting, and long-term savings on energy costs Read more
Case Study: Display at the Ocean Explorium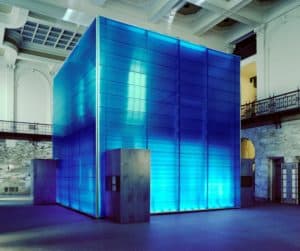 A Powerful Experience in Glowing Polycarbonate
Project: Ocean Explorium Display
Location: New Bedford, MA
Architect: Cosestudi, LLC
System: Custom Display with LIGHTWALL 3440
Cosestudi, LLC had a very specific vision for the project they were designing for the New Bedford Seaport's Ocean Explorium. This was to be an interactive exhibit intended to teach visitors about marine life and the importance of protecting our oceans. The architect wanted to create a dramatic representation of Earth from space. Their idea was to develop a cube that glowed blue, and suspended within the cube would be a sphere on which moving satellite images would be projected, replicating the view of Earth as seen from the darkness of space Read more
Case Study: Data Center for a Leading Global Technology Provider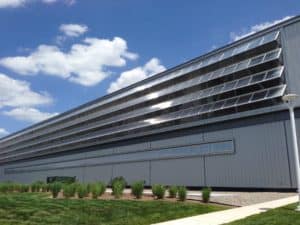 Achieving an Outstanding PUE with the TECHVENT 5300
Project: Data Center for a Leading Global Technology Provider
Location: North Carolina
Architect: O'Brien/Atkins Associates, PA
System: TECHVENT 5300
A leading global technology provider specializing in storage efficiency and cloud capabilities was expanding fast. They were rapidly outgrowing their research and development facility, and needed to build a new one to accommodate their increasing workforce and mounting client demands. While the need was immediate, the expansion couldn't be hasty – it had to meet the client's high sustainability and energy-conserving standards Read more
Case Study: Martin Luther King Jr. Middle School Gymnasium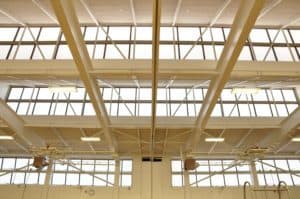 EXTECH's TECHVENT 5300 Aces the Test
Project: Martin Luther King Jr. Middle School Gymnasium
Location: Berkeley, CA
Architect: Baker Vilar Architects
System: TECHVENT 5300
Martin Luther King, Jr. middle school in Berkley, CA was looking to update their school gymnasium. Ranked as one of the best schools in Alameda County and featuring enrichment classes that surpass general studies, the updated gym needed to reflect the school's commitment to dynamic learning environments without breaking the budget Read more
Case Study: General Electric/SABIC Innovative Plastics Headquarters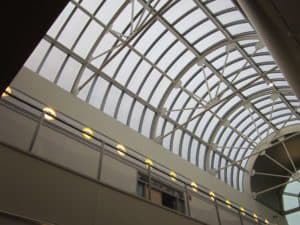 Custom Skylight Design, Standing Seam Roofing
Project: General Electric/SABIC Innovative Plastics Headquarters
Location: Pittsfield, MA
Design: EXTECH Design and Build
System: SKYGARD 3300, Custom Design
General Electric had a big problem with their U.S. Headquarters in Pittsfield, MA: built in the 1970s, the facility's skylights and metal roofing were leaking. The leaks started shortly after the initial installation, and through the years, numerous companies were hired to attempt to solve the problems. These attempts were unsuccessful Read more  
Case Study: Jackpot Junction Casino Hotel 2013 Canopy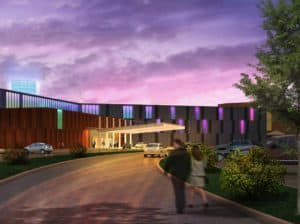 A Grand Entryway with EXTECH's SKYSHADE 3100
Project: Jackpot Junction Casino Hotel - 2013 Casino Expansion Project
Location: Morton, MN
Architect: Walsh Bishop / Design, LLC
System: SKYSHADE 3100
The Jackpot Junction Casino Hotel wanted to be an oasis for the people of Minnesota, the Dakotas, and anyone traveling through the upper portion of the United States. The venue features not only gaming but dining, visiting artists and comedians, and concerts in a 5,000 seat outdoor amphitheater. To truly be the jewel of the Northern Midwest, the casino needed to expand, and the expansion needed a grand portico to greet guests Read more  
Case Study: DTCC courtyard canopy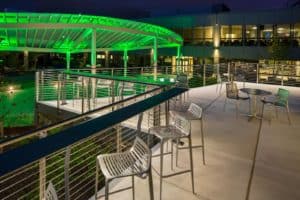 The Perfect Canopy for Campus Life
Project: Delaware Technical Community College courtyard canopy
Location: Newark, DE
Architect: Tevebaugh Associates
General Contractor: Whiting-Turner
System: SKYSHADE 3300
The Delaware Technical Community College canopy project presented more challenges than one would think. Tevebaugh Associates, the project's architect, wanted a sleek, free-standing marquise-shaped canopy with integrated up-lighting. Because of its size (80 feet long, 32 feet wide), a free-standing canopy with a consistent look would be difficult to achieve. This difficulty became apparent when Tevebaugh encountered several roadblocks with their initial manufacturer. Tevebaugh came to EXTECH to see if we could help make their design come to life Read more
Case Study: Southeastern Pennsylvania Transportation Authority (SEPTA)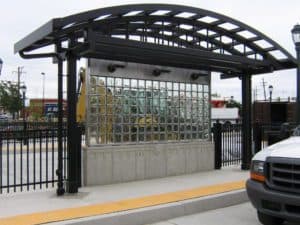 MATRIXWALL: A Superior Option to Mortared Glass Block
Project: Southeastern Pennsylvania Transportation Authority (SEPTA)
Location: Philadelphia, PA
System: MATRIXWALL
In most major cities, transit shelters sustain abuse - they are subjected to wind, sleet, snow, rain, and vandalism. Philadelphia is no exception. The Southeastern Pennsylvania Transportation Authority (SEPTA) was in need of a durable product that could withstand the harsh weather, foil vandals, and was transparent so that activities on the other side of the shelters could be monitored Read more
Case Study: Harry Parker Community Rowing Boathouse and Sculling Pavilion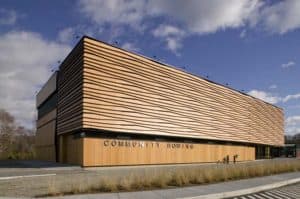 Award-winning, custom design on the shores of the Charles River
Project: Community Rowing Inc., Harry Parker Boathouse and Ruth W. Somerville Sculling Pavilion
Location: Brighton, MA
Architect: Anmahian Winton Architects
General Contractor: Consigli Construction Co
System: Custom Façade
After over 20 years of providing public rowing programs from a leased facility, Community Rowing, Inc. decided to construct a boathouse of their own with the infrastructure and accessibility needed to maintain and develop programs and services. CRI is the largest rowing company in the country, and more than 5,000 rowers depend on their facilities, expertise, and outreach. To further serve the community, a new facility was essential Read more
Case Study: University of Florida Custom Suspended Ceiling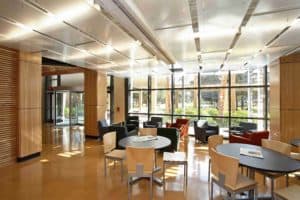 A Custom Ceiling that Complements the Florida Sunshine
Project: University of Florida Custom Suspended Ceiling
Location: Gainesville, FL
Architect: Ross Barney Architects
System: FLEXI-PANEL
When Ross Barney Architects was hired to design the University of Florida's Library West addition, they wanted an ethereal aesthetic while also respecting the university's commitment to green technology and sustainability. Because of this, a polycarbonate system was the ideal product for the library's ceiling – cellular polycarbonate produces diffused light when backlit, and is highly recyclable, thus would help with the project's LEED rating Read more
Case Study: UNO Galewood Charter School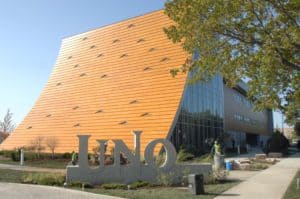 EXTECH's Custom Engineering Delivers Award-Winning Design
Project: UNO Galewood Charter School
Location: Chicago, IL
Architect: UrbanWorks, Ltd.
System: Custom Façade & Skylights
The United Neighborhood Organization (UNO) is a group dedicated to fulfilling the developmental needs of the Hispanic community in Chicago. After securing a $98 million grant, the organization decided to build three additional locations, one of which was the Galewood Charter School. This award-winning, LEED certified building accommodates 600 students and has an 80 foot tall, Prodema paneled sloped roof that soars into the midwestern sky; it is an architectural achievement on several fronts Read more
Case Study: Logan Airport Parking Expansion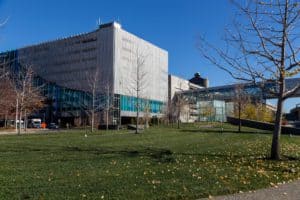 Function and Flair with a Custom Kinetic Façade
Project: Logan Airport Kinetic Wall
Location: Boston, MA
Architect: Arrowstreet
System: KINETICWALL
The Massachusetts Port Authority (Massport) was in need of a modern parking facility for their Central Parking Expansion at Logan International Airport.  Because of the facility's prominent location, they were looking for a 21st-century design – one that incorporated sustainable materials and delivered an elegant and dynamic look Read more
Case Study: Otterbein University's STEAM Innovation Center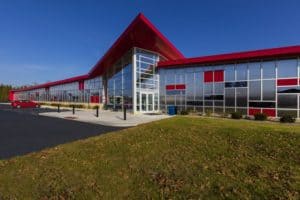 A State-of-the-Art Renovation in Central Ohio
Project: Otterbein University's STEAM Innovation Center
Location: Westerville, OH
Architect: Moody Nolan
General Contractor: Corna Kokosing
System: LIGHTWALL 3000
In a world where factory jobs are being replaced with smart technology and globalization has made the manufacturing industry increasingly competitive, Otterbein University saw an opportunity Read more
Case Study: DuPage Airport Authority Hangar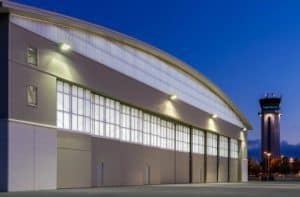 EXTECH systems used to enhance aesthetics and energy efficiency
Project: DuPage Airport Authority Hangar
Location: Chicago, IL
Architect: Burns McDonnell
System: LIGHTWALL 3440 & SKYGARD 3300
To better accommodate and store both daily transient aircraft and diverted aircraft, the DuPage Airport Authority opened a new hangar in August 2017, reflecting its goal to build and maintain a world-class facility in the heart of the United States.The new 31,000-square-foot hangar spans 244 feet wide by 134 feet deep with 29-foot-high doors. It features LIGHTWALL 3440® and SKYGARD 3300® polycarbonate systems from Exterior Technologies, Inc.  Read more
Case Study: SEPTA Concourse Improvement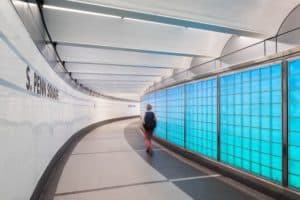 Active appearance and proven performance tailored for transportation
Project: SEPTA Concourse Improvement
Location: Philadelphia, PA
Architect: Sowinski Sullivan Architects
System: SKYSHADE 3100® & GRIDLOCK®
In the summer of 2018, the Southeastern Pennsylvania Transportation Authority (SEPTA) completed the first phase of the Downtown Link, its Center City concourse improvement program to upgrade the underground pedestrian tunnel network. Significant architectural enhancements using  SKYSHADE 3100® and GRIDLOCK® were made during this phase including an innovative, backlit, glass block "active" wall system by Exterior Technologies, Inc. (EXTECH).  Read more
Case Study: General Electric Corporate Aviation Hangar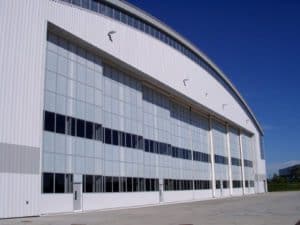 Durable Flexibility with the LIGHTWALL 3000
Project: General Electric Corporate Aviation Hangar
Location: Newburgh, NY
Architect: HLW International, LLP
System: LIGHTWALL 3000
The General Electric (GE) private hangar was in need of not only a repair, but an upgrade. Years of harsh weather and the extreme aviation environment had damaged the façade, and the facility had a dated look. GE was looking for a new exterior that would provide the bright daylighting their maintenance crew required while saving on energy costs, delivering ecological benefits, and creating a more contemporary appearance. Further, the glazing material had to be tough enough to withstand stones and other debris which would be blown off the tarmac by the jet engines Read more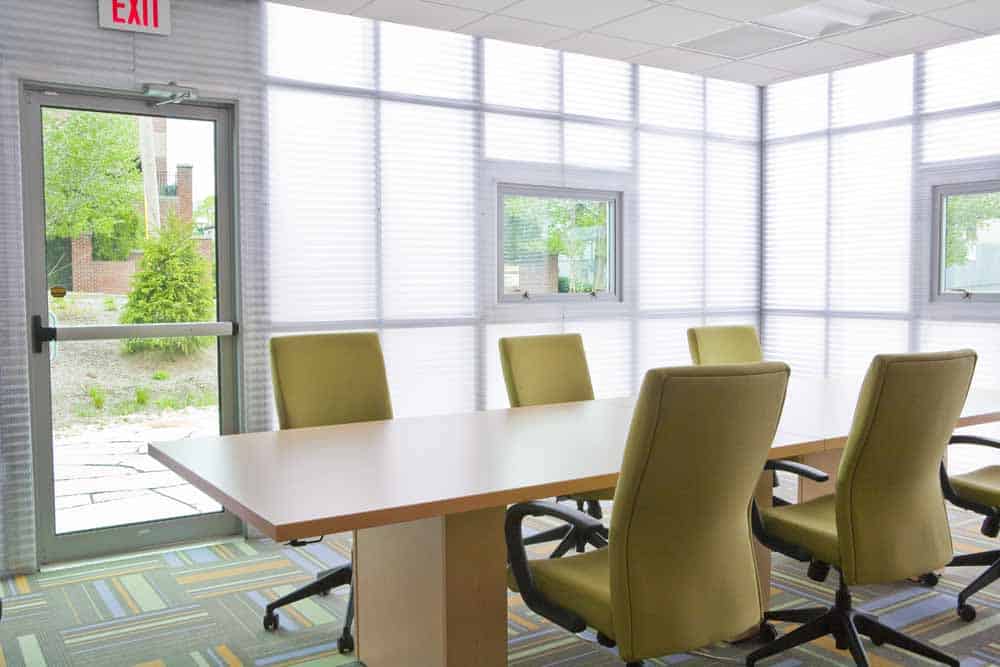 EXTECH's systems and expertise have served a wide variety of industries, including: