EXTECH's SKYGARD 3300 commercial skylight system is an aluminum mullion skylight that was designed with ease of installation in mind while being able to endure a wide range of weather systems. It is incredibly easy to install, lightweight, and durable.
The SKYGARD 3300 skylight is a non-structural 'skin' system, designed primarily for polycarbonate glazing, although glass can be used. The system requires continuous structural support and is ideal for over-glazing or retrofit applications where existing structural members will remain in place.
The SKYGARD 3300 is used in a wide range of building types, from airline hangars to industrial factories to recreational facilities.
For self-supporting and long-spanning skylights, see EXTECH's SKYGARD 3700.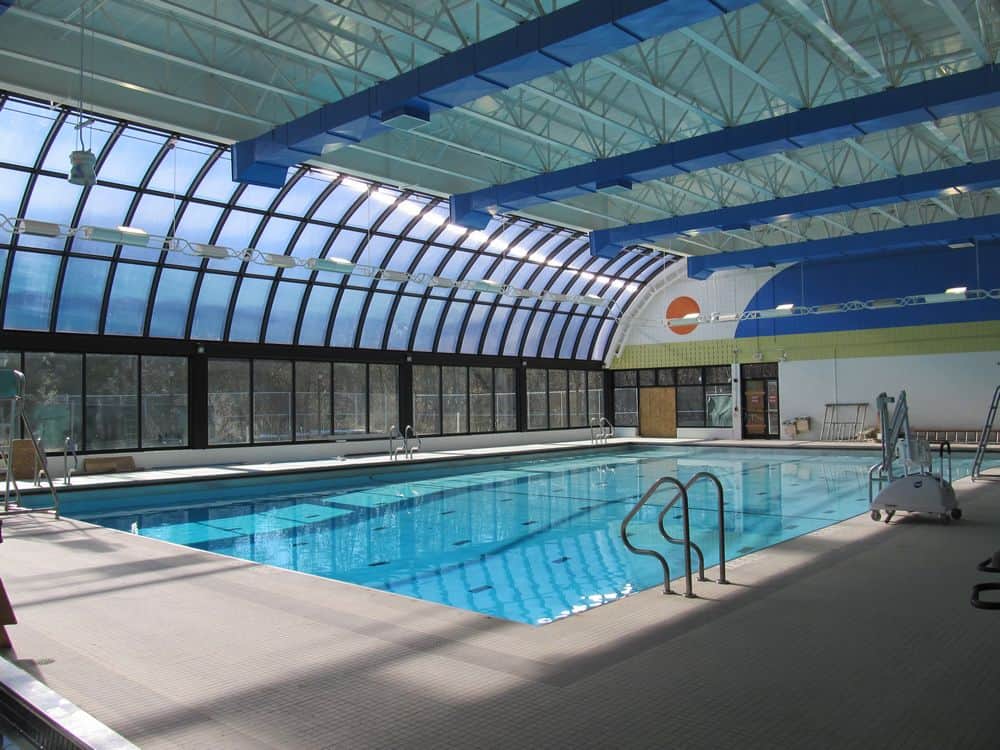 Further details and benefits 
Accepts glass, monolithic, or cellular polycarbonate sheets from ¼" (6mm) to 1" (25mm) thick
Deep glazing pockets (rabbet depth) accept thermal movement of thermoplastic glazing
Dry glazed, incorporating low friction gaskets to reduce noise caused by movement of the glazing
Glazing gaskets have a low coefficient of friction surface to allow for thermal movement of glazing
Finish on aluminum framing can be anodized or high-performance factory baked paints
Lightweight components designed to attach to the existing structure
Pressure equalization system
Plastic spacers for thermal improvement of the system as well as positive stops to control gasket pressure
Aluminum framing is overlapped at intersections for superior air and water resistance
Manufactured in the U.S.A.
Case Study: General Electric/SABIC Innovative Plastics Headquarters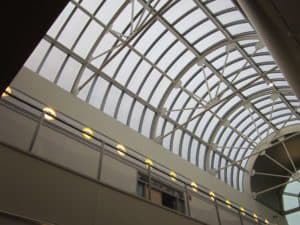 Custom Skylight Design, Standing Seam Roofing
Project: General Electric/SABIC Innovative Plastics Headquarters
Location: Pittsfield, MA
Design: EXTECH Design and Build
System: SKYGARD 3300, Custom Design
General Electric had a big problem with their U.S. Headquarters in Pittsfield, MA: built in the 1970s, the facility's skylights and metal roofing were leaking. The leaks started shortly after the initial installation, and through the years, numerous companies were hired to attempt to solve the problems. These attempts were unsuccessful Read more  
Air infiltration (ASTM E-283): .03 cfm per square foot at 12 PSF
Water infiltration (ASTM E-331): No leakage at 12 PSF
Condensation Resistance Factor: (CRF) of 60 (AAMA 1503.1-88)