EXTECH's SKYSHADE 3300 is a surface mounted, single-glazed translucent polycarbonate industrial canopy system for applications over an existing structure. It is a simple system with aluminum pressure caps and shallow rafter extrusions that are designed to be placed on continuous structural rafters. It provides daylighting, high-insulation value, UV screening, and impact resistance.
The SKYSHADE 3300 is built with lightweight panels and pre-fabricated components, reducing installation costs. It has plastic spacers for thermal improvement and positive stops to control gasket pressure.
The SKYSHADE 3300 is ideal for commercial and industrial canopies, pavilions, and walkway covers, and can be customized to a range of needs.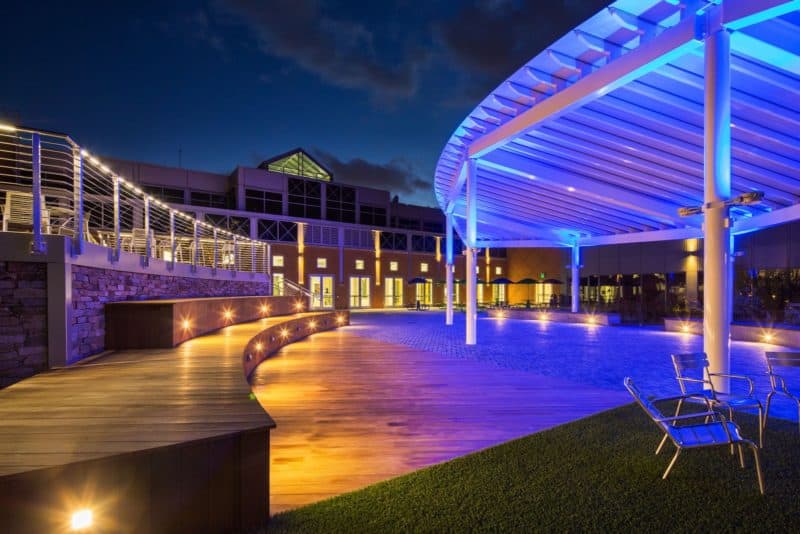 Further details and benefits
Fully fabricated
Highly impact resistant
"Pressure equalization" system
Lightweight panels and components install easily and reduce installation costs
Plastic spacers for thermal improvement of the system as well as positive stops to control gasket pressure
Glazing gaskets have a low coefficient of friction surface to allow for thermal movement
Aluminum framing is overlapped at intersections for superior air and water resistance
LEED credits available for 100% recyclable polycarbonate and aluminum framing
Panels are available in a variety of colors
Framing is available in a variety of finishes
Manufactured in the U.S.A.
Glazing
Glass, monolithic, or cellular polycarbonate sheets from ¼" (6mm) to 1" (25mm) thick
Case Study: DTCC courtyard canopy

The Perfect Canopy for Campus Life
Project: Delaware Technical Community College courtyard canopy
Location: Newark, DE
Architect: Tevebaugh Associates
General Contractor: Whiting-Turner
System: SKYSHADE 3300
The Delaware Technical Community College canopy project presented more challenges than one would think. Tevebaugh Associates, the project's architect, wanted a sleek, free-standing marquise-shaped canopy with integrated up-lighting. Because of its size (80 feet long, 32 feet wide), a free-standing canopy with a consistent look would be difficult to achieve. This difficulty became apparent when Tevebaugh encountered several roadblocks with their initial manufacturer. Tevebaugh came to EXTECH to see if we could help make their design come to life Read more
Air infiltration: (ASTM E-283): .03 cfm per square foot at 12 PSF
Water Infiltration (ASTM E331): No leakage at 12 PSF
Condensation Resistance Factor: (CRF) of 60 (AAMA 1503.1-88)