GRIDLOCK
SNAP-IN GLASS BLOCK SYSTEM



The GRIDLOCK is a glass block grid system that "snaps in" to lightweight prefabricated aluminum frames – no mortar, glue, or tape necessary. This technology delivers shorter installation times; blocks can be removed and replaced in under 2 minutes since there is no need to wait for adhesive to dry. This limits disruptions to pedestrian traffic and simplifies the installation process because no masonry is required.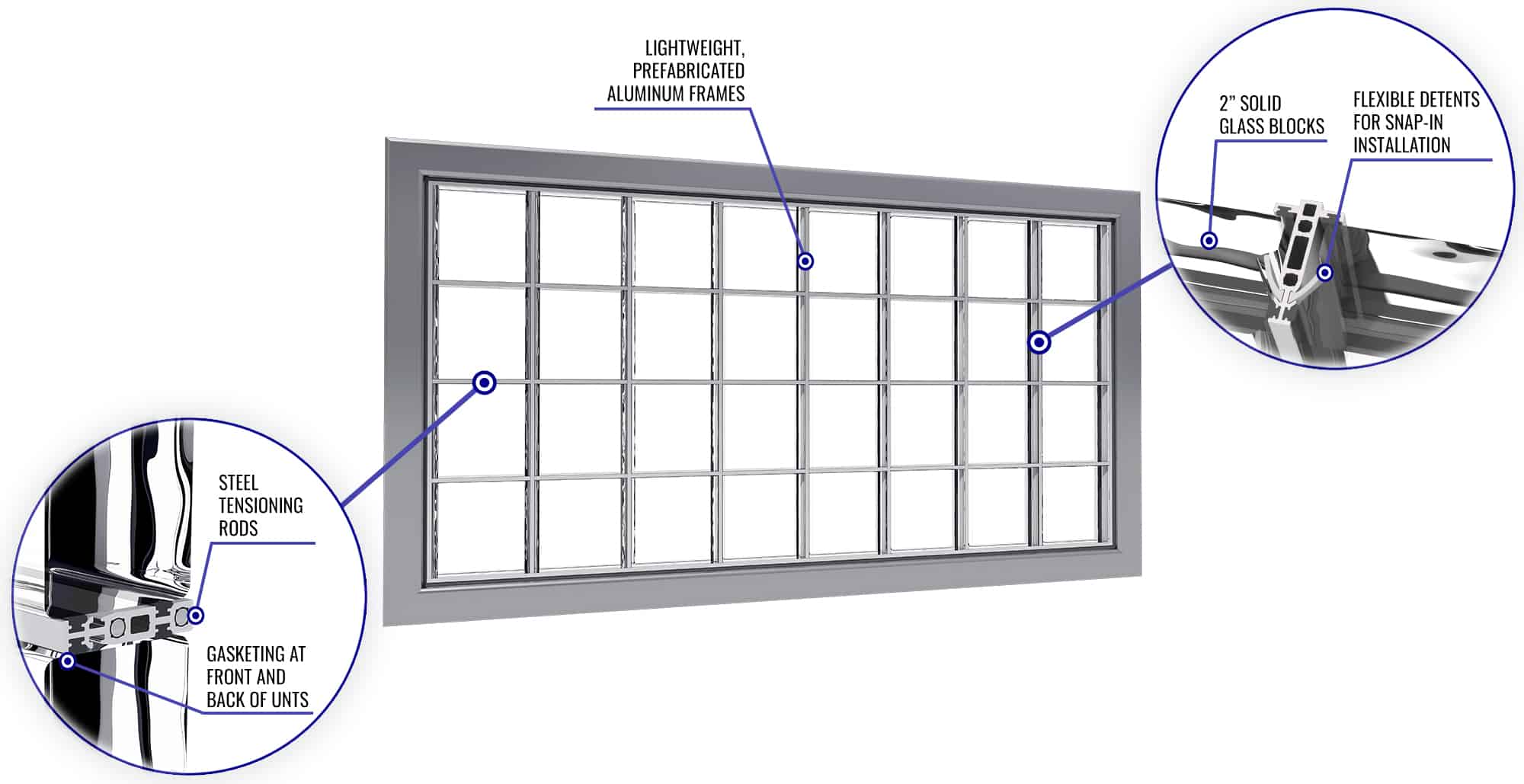 UNIQUE FEATURES
Snap-in technology removes need to remove sealants or adhesives
No ledges to collect dirt and debris and no exposed fasteners
Fully gasketed joints will not deteriorate, effloresce, build-up dirt or discolor
Capable of long structural spans
Lightweight, pre-fabricated aluminum frames are easily and quickly installed versus traditional mortar or heavy pre-glazed systems
    GLAZING DETAILS
2" thick solid glass blocks are nearly unbreakable
Individual 8"x 8" (nominal) glass block units simply snapped and permanently "locked" into place
Creative Art-in-Transit opportunities. (i.e. unlimited framing colors, etched or back screened glass blocks)
Glass offers superior graffiti resistance and provides visual clarity for safety and security
Can be adapted to various existing opening sizes
    TYPICAL APPLICATIONS
Industrial and transit

Windscreens
Shelters
Partitions
Accent walls

Interior design

Hospitals
Schools
Decorative Accents
* Click on the icon above to view additional 3D scenes.
GRIDLOCK CASE STUDIES
Click an image to read more about our latest projects