Cooper Gardens, 4511 Third Avenue, Bronx, NY  10457
Owner: STB Owners LLC
Developer partner: St. Barnabas Hospital
Developer and general contractor: L+M Development Partners Inc.
Architect – building: Dattner Architects D.P.C.
Architect – rooftop garden nursery and skylight structure: Kiss + Cathcart Architects PC
Engineer, fabricator and installer – rooftop garden nursery and skylight structure: EXTECH/Exterior Technologies, Inc.
Electrical contractor – rooftop garden nursery and skylight structure: Bright Power
Manufacturer – glass: Trulite Glass & Aluminum Solutions;
Manufacturer – photovoltaic panels: Onyx Solar Group LLC
Photography: Valentina Vanni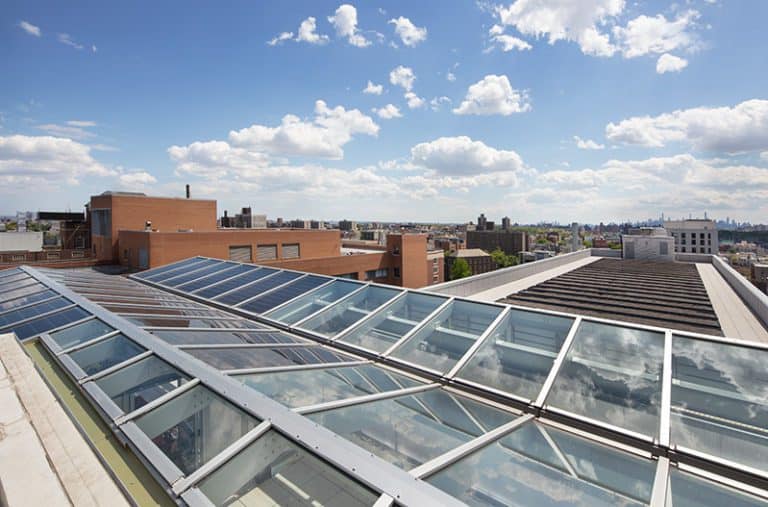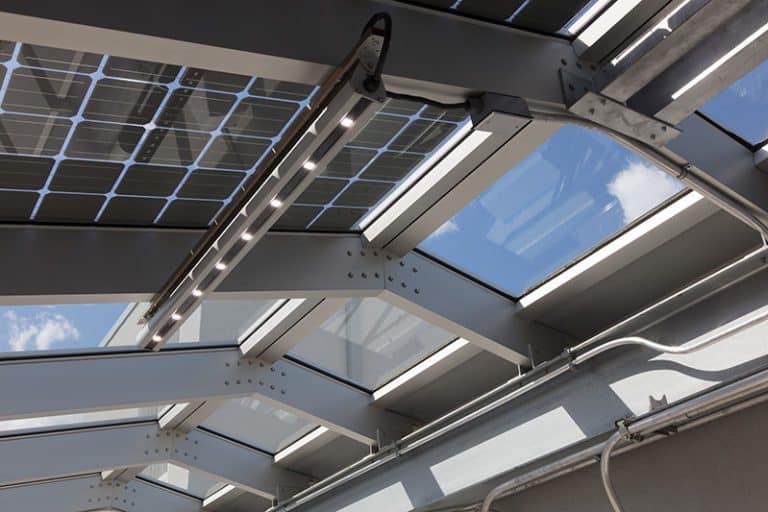 Across the street from St. Barnabas Hospital (SBH) in New York, a new 11-story building recently opened offering a two-level wellness care center and 181 affordable housing units. Known as Cooper Gardens, the building features a rooftop farm complete with a garden nursery and a solar shading structure designed by Kiss + Cathcart Architects. EXTECH/Exterior Technologies, Inc. worked closely with the architects to engineer, fabricate and install the structures and the integrated photovoltaic (PV) skylight.
Serving the Community
Cooper Gardens is named after SBH Health Systems' former president and CEO, Dr. Scott Cooper, who was instrumental in the project's creation. It is one of three buildings developed by SBH and L+M Development Partners that comprise a $156 million, 450,000-square-foot, multi-building, mixed-used project in the Belmont neighborhood of the Bronx.
SBH has served the Bronx community since 1866. The newly developed campus was created to address many of the challenges facing low-income residents by bringing critical health care services, affordable housing, job creation, outdoor fitness areas and healthy food options to the community.
Within Cooper Gardens, 57,000 square feet of medical space is leased to SBH to provide an ambulatory care center, primary care offices and a wellness center. Retail space, a daycare, a pharmacy and a healthy café are located at the street level.
Growing Sustainably
In May 2017, Kiss + Cathcart Architects began working with L+M on the rooftop farm concept for Cooper Gardens. "The farm helps the building's residents have access to fresh vegetables and supports them in living healthy," said L+M's Matthew Arbeit.
Managed by Project EATS, Cooper Gardens' rooftop is part of a network of neighborhood-based urban agricultural sites where food is sustainably grown and equitable distributed through the community. Climate-controlled structures extend the growing season and the organization's ability to provide fresh and local produce. Incorporating renewable energy further supports the mission and the sustainable goals.
Greg Kiss, firm principal, remembered, "The developer was interested in our background in high-performance green projects and our solar expertise. The building itself was already in construction when we started on the rooftop farm's design. Original, schematic designs had a just a pergola and planters. Whenever I look at any project, I try to understand what the best possible performance could be, in every way – programmatic, aesthetic and environmental. To fit L+M's criteria, we added enclosed space to germinate plants and the shading structure with integrated solar panels."
Solar Power Shade Canopy
Cooper Gardens' 1,000-square-foot solar shade canopy structure relies on EXTECH's SKYGARD® 2500 Series aluminum-framed skylight system. The system incorporates glass by Trulite and custom-sized PV panels from Onyx Solar Group.
"At first, we were thinking about an all-glass skylight. But we might as well make it solar, too," said Arbeit. "The PV panels are interesting in that they are solar and you can still see through the. They collect the sun's energy and produce electricity, which goes back into powering the building."
With a 13kW total potential output, the PV panels and glass lites were sized to match each other and fit within the framework of the uniquely articulated canopy design.
"The zigzag roof shape worked for several reasons," explained Kiss. "There were tight zoning constraints on how tall it could be, so the total height of the roof assembly needed to be small to allow for enough clearance below. The geometry needed to work for the part of the structure that was the greenhouse, as well as for the entire shade structure. With this configuration, the greenhouse part as well as the whole of the shade structure were symmetrical within their own areas. This was also important because the shade structure is visible from the street below, and as such, it culminates the tower-like massing that it sits on top of."
Kiss also noted, "The form was reasonably good in terms of solar orientation, as well as rain water capture."
In addition to harvesting daylight and providing shade, the canopy had to withstand extreme windloads on the top of this building, which required EXTECH's creative engineering. Arbeit recognized the complexity of rooftop construction and EXTECH's contribution. "There were some tricky roofing details and field conditions." Among them, he highlighted, "Drainage was one of the challenges that EXTECH helped us resolve. We had a good experience working with them."
Kiss elaborated, "Drainage was tricky in that, given the tight vertical clearance previously mentioned, we had to find ways to get the rainwater to flow around the steel structure, as well as through the roof framing." EXTECH's solution was a "very custom" gutter system, according to Kiss.
Although not implemented in this initial installation, Kiss mentioned that "the project was designed, so in the future, the rainwater can be collected and used for irrigation."
Comfortable Cultivation
"Normally, a greenhouse would be as transparent as possible, but sometimes, it's not a bad thing to have it partly shaded to make it more comfortable where the people are working," continued Kiss.
The 520-square-foot, climate-controlled, garden nursery structure was constructed using EXTECH's LIGHTWALL® 3450 translucent wall system with interlocking cellular polycarbonate glazing for the walls and door.
"It is a therapeutic environment to nurture seedlings and then transplant them to planters outside of the enclosure on the rooftop garden," reiterated Ron Clelland, EXTECH's architectural representative. "To create the greenhouse, we relied on our LIGHTWALL. It is our go-to system, although there is some customization required for every project."
EXTECH's LIGHTWALL 3450 uses highly insulating, 50mm structural cellular polycarbonate glazing and 38.95% recycled aluminum framing. After their useful life as part of the wall system, both the polycarbonate and the metal are 100% recyclable.
Lightweight, easy to install and backed with a 10-year warranty, EXTECH's LIGHTWALL 3450 can extend up to 54 feet long and eliminates leak-prone horizontal joints. LIGHTWALL 3450 does not require framing members within the field of the glazing, which allows for a clean, modern architectural aesthetic.
"The polycarbonate glazing lets in the daylight, but it is diffused so there's no glare," noted Clelland. This attribute also contributes to energy efficiency through daylighting, lowers dependence on electric lighting and reduces solar heat gain to keep people comfortable within the building envelope. Viewed from the exterior, these diffusing characteristics also reduce light pollution emanating from the building.
Coordinated Success
"We go way back with EXTECH and thought they would be the perfect group to build this," said Kiss. "Their polycarbonate wall systems worked well and they are interested in solar structures. They helped design, engineer and install the whole thing, and coordinated with Bright Power to make the electrical connections."
Jeffrey Ferrero, L+M's vice president and project executive, oversees numerous residential and retail projects, including managing the construction of Cooper Gardens. "The time and effort with coordination between steel supplier/installer, roofer, solar panel supplier, architect and EXTECH was seamless and greatly appreciated," he praised. "This was successful and seems to be working well at SBH. The end result turned out better than anticipated."
Construction of the garden nursery and canopy structure was completed in July 2019. Kiss added, "It's a great thing they're doing here to provide a place of healing and wellness, and there's not a lot of farming space available in that part of the Bronx. It's great to have the combination of plant growth and power generation. From the rooftop, you also get gorgeous views of the city and Manhattan."
Healthier Future
The SBH suite of buildings was designed by Dattner Architects to include 314 units of affordable housing. Of these, 219 units are available to low-income households and 95 units are set aside for formerly homeless households. The mixed-use residences were constructed with support through the Extremely Low & Low Income Affordability program of the New York City Department of Housing Preservation & Development, and the Low Income Housing Tax Credit Program of New York State Homes & Community Renewal.
At the campus groundbreaking event, SBH Health Systems' president and CEO, Dr. David Perlstein, told the Bronx Times that many of the issues their medical teams deal with are related to their patients not living in safe housing, and by creating safe housing they can increase wellness.
Perlstein concluded, "This, to me, brings it all together and says, 'Let's address all of the issues that are problematic for patients and that keeps them from addressing their health.' The idea is that you can't take care of an individual unless you are going to address all the holistic things that go with it."