Project: General Electric/SABIC Innovative Plastics Headquarters
Location: Pittsfield, MA
Design: EXTECH Design and Build
System: SKYGARD 3300, Custom Design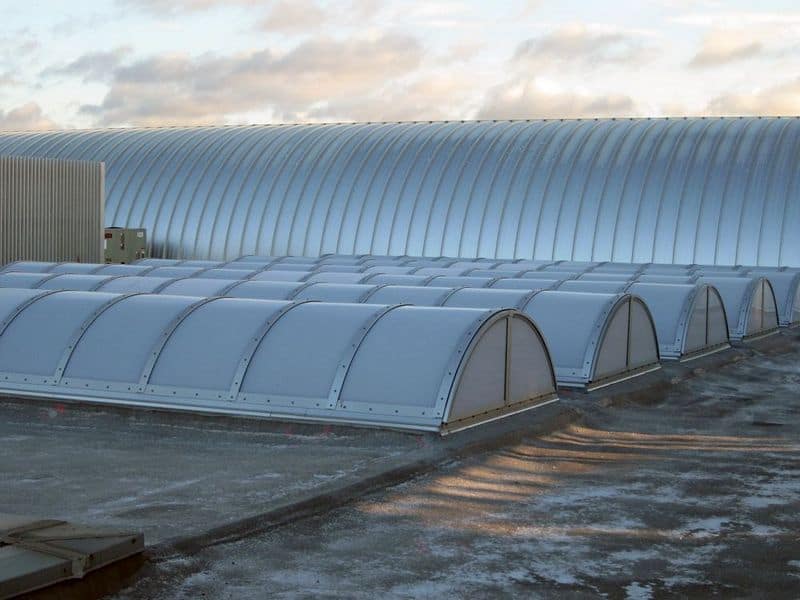 General Electric had a big problem with their U.S. Headquarters in Pittsfield, MA: built in the 1970s, the facility's skylights and metal roofing were leaking. The leaks started shortly after the initial installation, and through the years, numerous companies were hired to attempt to solve the problems. These attempts were unsuccessful.
GE was familiar with EXTECH's  work with retrofits and polycarbonate daylighting systems, so they reached out to us for assistance with this project. To effectively and expeditiously tackle their issues, we utilized our SKYGARD 3300 system and integrated some custom design.  We renovated several types of skylights throughout the facility – including monumental ridge and barrel vault skylights, along with smaller barrel vaults that were unitized and pre-assembled.
The biggest challenge was with the large barrel vaults in the atrium which were comprised of curved skylight panels with hundreds of leaking joints. We designed a retrofit system wherein we removed the top half of the existing framing system and created newly designed compatible aluminum extrusions to allow the installation of new cellular polycarbonate panels. Those panels ran from ridge to the eave with no horizontal joints required, thus eliminating the risk of leaks. EXTECH also replaced areas of metal roofing that was allowing additional leaks.
The metal roofing, also designed by EXTECH, was a standing seam system made with .060" thick clear anodized aluminum. The panels were curved on the ground at the job site.
Because of the complex shape and height of the location, we designed special segmented ladders that could be bent (formed) over the barrel skylights for safer job site installation access.
We finished the job on-time and on-budget; since its retrofit in 2008, GE/SABIC has not reported any problems with EXTECH's systems.
If you would like to find out more about this project or the SKYGARD 3300, we're more than happy to chat! Please contact us for more information.