Haven Church Family Life Center | 5902 West Cactus Road Glendale, AZ 85304
Owner: Haven Church
Architect: Debartolo Architects
General Contractor: Robert E Porter Construction Co
Subcontractor: Architectural Building Systems, LLC
Translucent Wall System: EXTECH's LIGHTWALL 3440
Photography: Jason Roehner,  courtesy of Debartolo Architects
STRONGSPAN Solution for Gymnasium Windows
Haven Church's mission was "to 'Build a Haven for the Community' by providing a place for the greater Glendale, Arizona community to gather, connect, and grow."
Part of this plan involved building a new multi-purpose space for members of the community to gather.  Outlined in the master plan, Debartolo Architects planned this new construction and courtyard expansion in phase 1 of construction.
Construction began in the summer of 2022. The facility was designed to include clerestory lighting throughout the gymnasium.  Not only do translucent walls provide excellent daylighting and light diffusion, they provide energy savings by reducing electrical loads needed for lighting. Polycarbonate translucent wall systems are highly insulating and perfect for gymnasium applications because of their impact resistance.
The LIGHTWALL 3440 featuring STRONGSPAN mullions was specified for this application.  The STRONGSPAN allows the LIGHTWALL 3440 to span the 10' to 12.5' verticals without the need for horizontal framing members.
Installation of the system was completed quickly. The STRONGSPAN mullion is installed as panels are installed.  It is simple to install, yet an effective solution that provides extra support where needed.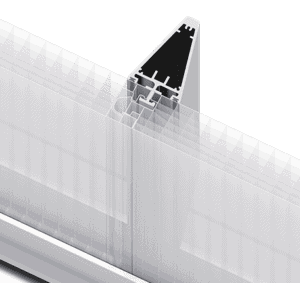 In total, 4102 SF of the translucent wall system was installed.
The multi-purpose facility officially opened April 2nd to the public, and is used as a space for recreation, gathering, and athletic activities.
If you would like to learn more about this project or our LIGHTWALL 3440, we're more than happy to chat! Please contact us for more information.