EXTECH's Custom Engineering Delivers Award-Winning Design
Project: UNO Galewood Charter School
Location: Chicago, IL
Architect: UrbanWorks, Ltd.
System: Custom Façade & Skylights
The United Neighborhood Organization (UNO) is a group dedicated to fulfilling the developmental needs of the Hispanic community in Chicago. After securing a $98 million grant, the organization decided to build three additional locations, one of which was the Galewood Charter School. This award-winning, LEED certified building accommodates 600 students and has an 80 foot tall, Prodema paneled sloped roof that soars into the midwestern sky; it is an architectural achievement on several fronts.  However, this design almost didn't make it off the ground – it took EXTECH's expertise in skylight systems and custom façade engineering to make the Galewood design a possibility.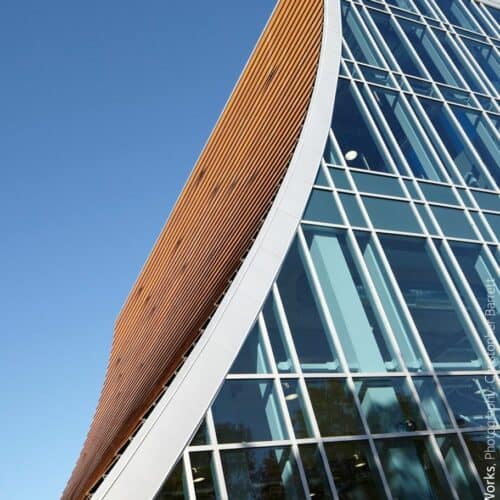 What made the Galewood School's design difficult were the skylights on the sloped roof. UrbanWorks Ltd., the project architects, wanted to incorporate the skylights to take advantage of the natural light and LEED credits they offer while still achieving a flush appearance. However, the skylight manufacturers they spoke to insisted that the skylights required a 6-inch high surrounding curb. Although curbs are a common requirement of most commercially available skylights, in this instance, it meant that the skylights would protrude from the sleek curved roof. To hide the protruding skylights, UrbanWorks designed an additional support structure to elevate the Prodema panels, and achieve the flush look they desired. Although costly, this seemed like the only solution due to a lack of flush mount skylights in the industry.
But before settling on the more costly design, UrbanWorks came to EXTECH with their challenge, and we did what every skylight manufacturer insisted couldn't be done. We designed custom-framed extrusions for the skylights that were watertight, and which integrated the shingled Prodema panels, the skylights, and the roof into one structure. The EXTECH system allowed the panels to be installed quickly, permitted the installer to work top-down or bottom-up, and of course, positioned the panels flush with the roof. When we took on this project, we wanted to solve UrbanWorks' immediate design challenge as well as anticipate further ways to minimize the project costs.
The end result was a breathtaking, LEED silver-certified design. After the ribbon-cutting, WBEZ Chicago said the Galewood Charter School "deserves praise" for its architectural contribution to the Chicago area. It has garnered national attention and accolades, and won the 2013 ALA award for Gold Medal Design. Though it has received so much positive attention and demonstrates EXTECH's innovation in engineering, the best part about the Galewood Charter School is that it gives students more than just a building – it gives them an inspiring environment. When their bus approaches every morning, their eyes scale that astounding slope that reaches for the sky, and the sky is where their aim remains.
If you would like to find out more about this project or our Custom Design services, we're more than happy to chat! Please contact us for more information.