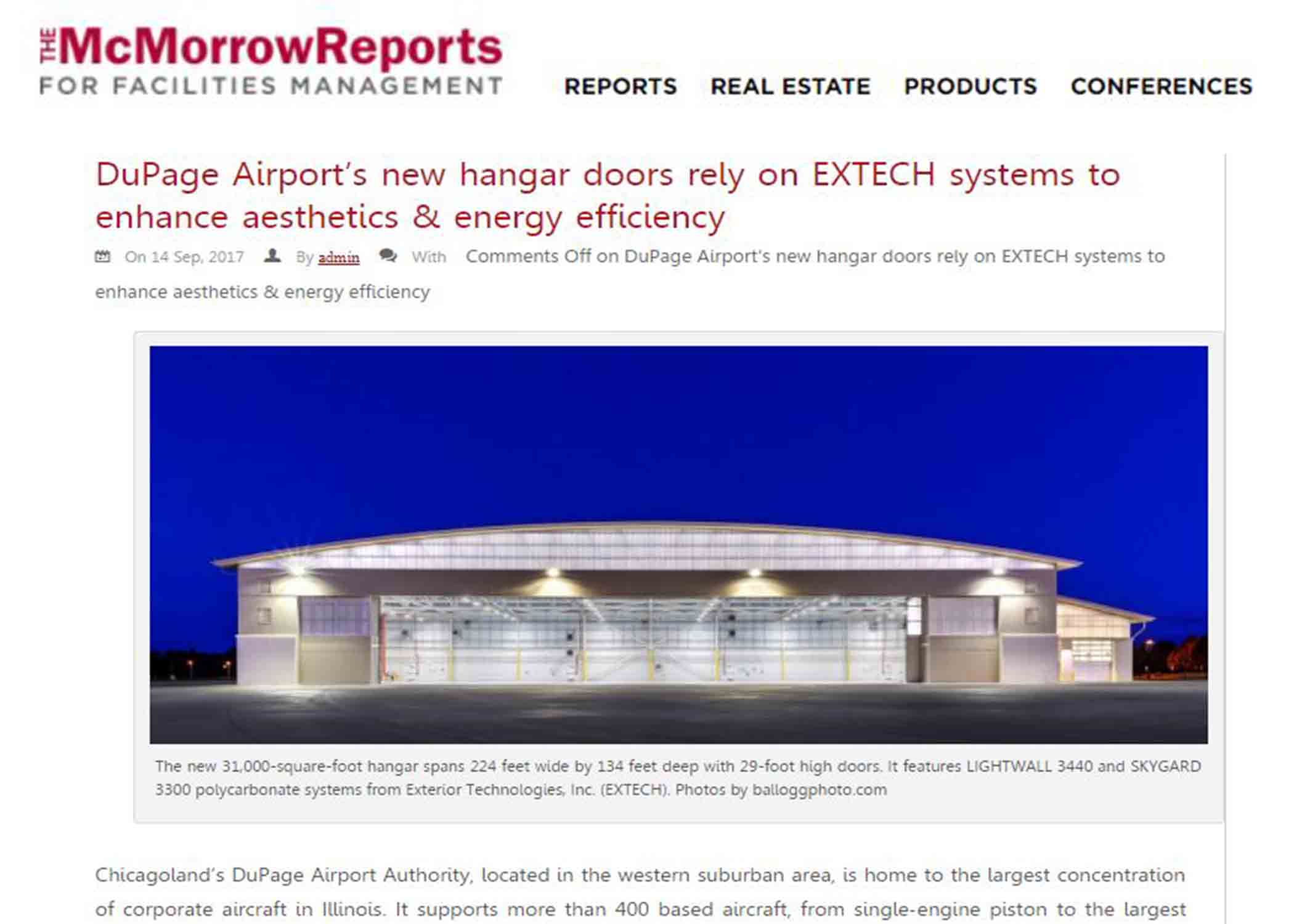 The September 2017 issue of The McMorrow Reports digital newsletter profiles the DuPage Airport hangar project where EXTECH's LIGHTWALL 3440 and SKYGARD 3300 polycarbonate systems were used to achieve the aesthetic, durability, and sustainability required by the DuPage Airport Authority.
In the lengthy profile, the installer, director of aviation facilities and properties, and EXTECH's own Kevin Smith discuss the project's intentions and how all parties collaborated to create a high-performing hangar that was completed on-budget and on-time. One choice quote from the article:
The project broke ground in May 2016 with a total estimated budget of $9.9 million with a guaranteed maximum price. Doles elaborates, "It took a lot of coordination by the design/build team due to the associated site work and infrastructure. For example, we needed proper grading so we would be able to easily move the aircraft. Throughout each step of the project, there was smooth collaboration and the team was always looking out for the best interests of the owner. They suggested ways to save money, while respecting the design and timeline."
Ken Williams, Harbour Contractors' superintendent, agrees and adds, "I personally spent hours of coordination with the engineers at EXTECH to ensure that all design criteria were met. This project came in on time and under budget due to the project team that was put together. Many of the trades, including Anthony Roofing, went above and beyond, working countless weekends, to maintain the project schedule."
You can read the full article in the September issue of The McMorrow Reports. You can view the photos of the DuPage hangar here.
If you would like to chat with EXTECH about this project, our experience with aviation projects, or how our systems can help you achieve your design goals, please contact us.