New York City Transit 239th Street Maintenance Shop; 4570 Furman Ave, Bronx, NY 10470
Owner/Architect: Metro Transit Authority, New York City Transit
General Contractor: Zaman Construction
Skylight Manufacturer: EXTECH/Exterior Technologies, Inc.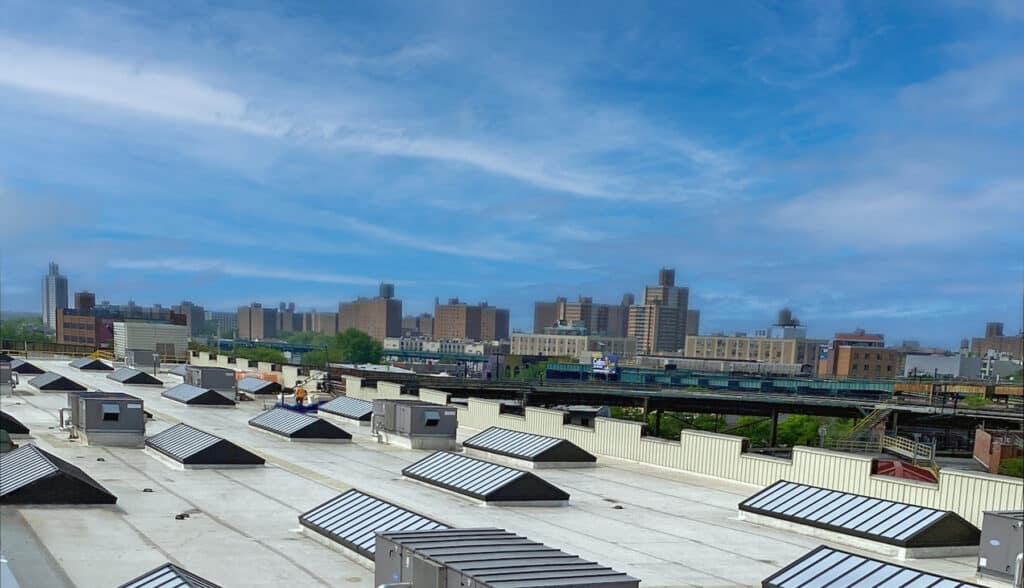 NYCT had a problem with their 239th street maintenance shop— too much light from previous skylights.  In a facility playing a critical role in transit and rail car maintenance, mistakes can be costly and dangerous.  The importance of good daylighting was evident; too much causes eye strain, while too little makes it impossible to work effectively.
To combat the effects of too much light, EXTECH provided 25 replacement skylights.  The SKYGARD 3700 is a long-spanning industrial skylight system perfect for this application.  The 3700 system was used for each 10' x 28' ridge skylight.
The SKYGARD 3700 is a self-spanning skylight system that is ideal for industrial applications.  EXTECH's systems are prefabricated for easy installation, reducing field labor.  This is especially critical when working on high-traffic applications, or in the case of the 239th street maintenance shop, on rooftops.
These skylights feature opal polycarbonate glazing.  Opal is often chosen because of its translucent milky color that provides exceptional performance benefits.  Not only do these translucent skylights provide ample sunlight needed for this type of work—they do so without glare.  By eliminating the need for overhead lighting where skylights are installed, the demand on electricity is also reduced, saving the facility money.
Another benefit of polycarbonate skylights is the energy efficiency; polycarbonate provides superior insulation over glass. It is a low maintenance solution because of the coextruded UV resistant layer in the formation of the panels.  This blocks out the harmful sun rays and keeps the system from yellowing.  Further eliminating maintenance, the SKYGARD 3700 has excellent water control and has been fully tested for long-term performance.
The NYCT has eliminated the struggle of bad daylighting, making maintenance job easier so riders can continue uninterrupted services
If you would like to learn more about this project or our SKYGARD 3700, we're more than happy to chat! Please contact us for more information.