Glass Block Windows & Walls
Industrial, Commercial and Transit Glass Block Systems Gallery
EXTECH has developed a series of mortarless framing systems for use with glass blocks, most often solid glass blocks 8" x 8" x 1 1/2" (or 3") thick. These provide ideal walls or screens for applications where low maintenance and vandal resistance are important.
These solid glass blocks can be factory installed in relatively small framing units (for example, using nine blocks) and the pre-assembled units can then be snapped into aluminum receptor systems in the field. Alternatively, EXTECH's aluminum framing can be sent to the job site pre-assembled and the glass blocks then installed in the field.
EXTECH's patented glass block walls and window are easy to erect, maintain and replace. Mortarless glass block systems are ideal for industrial and transit applications. With aluminum framing the glass block walls are durable and perfectly aligned.
The benefits:
Exposed aluminum will not deteriorate like mortared joints do
Available in a variety of finishes
Blocks available in various sizes for design flexibility
Replaced blocks look just like old blocks
Quick and easy installation
Easy to maintain
Vandalism and graffiti resistant
Most of our systems utilize SOLID glass blocks, which are 1- ½", 2" or 3" thick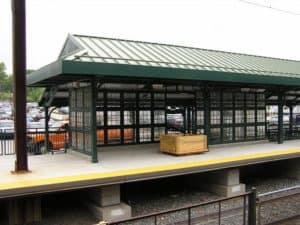 Southeastern Pennsylvania Transportation Authority (SEPTA)
In most major cities, transit shelters sustain abuse - they are subjected to wind, sleet, snow, rain, and vandalism. Philadelphia is no exception. The Southeastern Pennsylvania Transportation Authority (SEPTA) was in need of a durable product that could withstand the harsh weather, foil vandals, and was transparent so that activities on the other side of the shelters could be monitored.