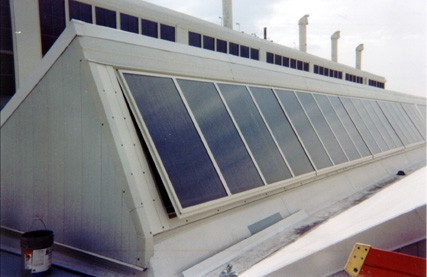 Kohler Co. Project Details
Location: Kohler, WI
Architect: CSD, S.C.
System: TECHVENT 5300
This polycarbonate window application is a typical one for EXTECH's TECHVENT 5300 Top-Hinged window. This industrial window system was patented by EXTECH many years ago and has proved to be both trouble free and maintenance free.
In this case, 16mm cellular polycarbonate glazing is incorporated into "wings" of aluminum framing to provide massive natural ventilation and lighting.
This system is also very economical. The TECHVENT 5300 system offers the advantages of a typical metal louver and provides natural light and ventilation during inclement weather. It is effective in a variety of applications, but favored for industrial purposes.