It isn't hard to find beautiful architecture built with polycarbonate. At EXTECH, we follow the latest in polycarbonate design and are consistently impressed by the ideas architects are able to bring to life with polycarbonate glazing. Polycarbonate in architecture is becoming a global phenomenon, so we thought we'd pay homage to all the stellar architecture leading the trend – here are our top 5 favorite polycarbonate designs from around the world.
Laban Dance Centre      
Project: Laban Dance Centre
Location: London, UK
Architect: Herzog & de Meuron
The Laban Dance Centre in London has become a timeless example of the colorful design possibilities polycarbonate offers. Completed in 2003, the centre became one of Europe's largest dance institutions and its architecture was lauded worldwide for having "the same movement, youth, agility, [and] pizzazz," as the students dancing within. Its vibrant spectrum of colors was chosen in collaboration with visual artist Michael Craig-Martin. According to the project's architects, "Coloured, transparent polycarbonate panels are mounted in front of the glass panels and serve as a protective shield (against sun, glare, and heat radiation) and contribute to the overall energy system." The Laban Dance Centre won the Stirling Prize for Architecture in 2003.
Garage Museum of Contemporary Art
Project: Garage Museum of Contemporary Art
Location: Moscow, Russia
Architect: OMA Partners
The Garage Museum of Contemporary Art is renovated from a Soviet-era restaurant that sat empty for decades until OMA Partners came along. The design illustrates why polycarbonate is great for modern-day retrofits – due to polycarbonate's versatility, the new translucent façade was easily integrated into the original reinforced concrete structure. Polycarbonate also aided in meeting contemporary sustainability goals by helping the Museum save on artificial lighting through daylighting, and save on cooling costs by utilizing polycarbonate coextruded with infrared absorbers, which filters solar radiation. The final product features an aesthetic that preserves original Soviet-era elements such as a mosaic wall, while also incorporating a range of innovative architectural and curatorial devices.
Municipal Sports Hall
Project: Municipal Sports Hall
Location: Girona, Spain
Architect: BCQ Studio
BCQ's sports hall design in Girona, Spain is like an optical illusion – at certain times of the day, the translucent polycarbonate façade blends with the clouds and sky, making it almost disappear. At night, the diffused polycarbonate glows from the interior lighting, creating an ethereal, dreamy luminescence. These whimsical optics were highly desired by the architect, and were achieved only through the use of diffused polycarbonate.
In addition to the aesthetic qualities offered by the polycarbonate, BCQ was able to use it to harness the benefits of natural light. Clerestories glazed with polycarbonate funnel daylight into the sports arena, helping the facility save money and creating a more comfortable environment for athletes and spectators alike. The design was a Girona Architecture Awards finalist, a pre-finalist in the XI Biennial of Spanish Architecture and Urbanism Awards, and a selected work in the 2011 FAD Awards.
Eleanor Boathouse at Chicago's Park 571
Project: Eleanor Boathouse at Chicago's Park 571
Location: Chicago, IL
Architect: Studio Gang
We love all the projects that involved EXTECH's polycarbonate systems over the past 40+ years, but there are some that really stand out because of their innovation in design and aesthetic achievements. The Eleanor Boathouse in Chicago is a prime example of those projects of which we are especially proud.
Designed by Studio Gang and opened in 2016, the Eleanor Boathouse was key to creating a connection between the shores of the Chicago River and Chicago residents. In an effort to reach LEED Silver certification, EXTECH's LIGHTWALL 3440 was used for the boathouse's translucent transoms given that the LIGHTWALL possesses 100% recyclability. The system's daylighting capabilities provided further opportunities to capture LEED credits, and the diffusing properties of the polycarbonate glazing reduce solar heat gain and light pollution. Since the translucent wall system does not require framing members, it delivers a clean, streamlined aesthetic.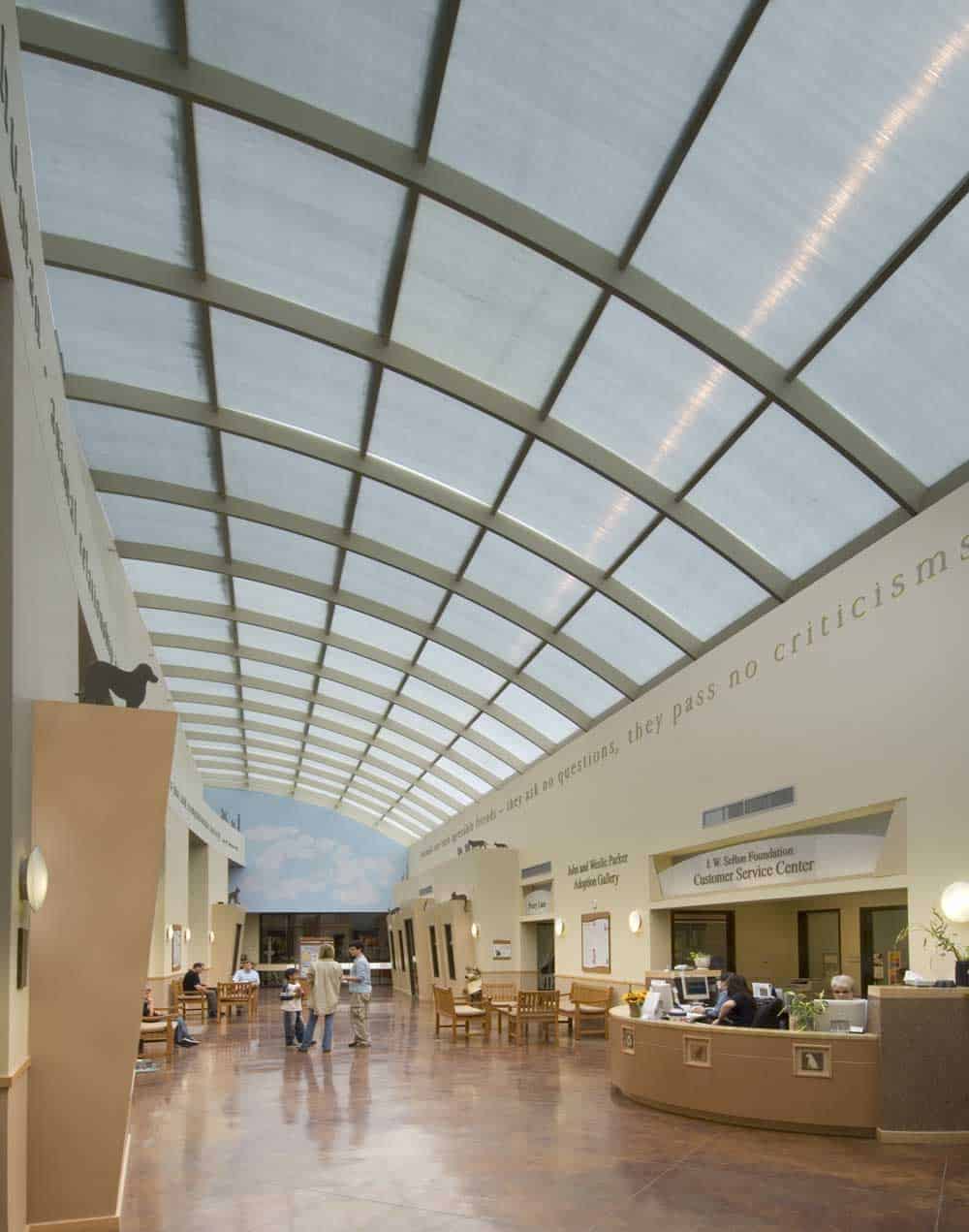 San Diego Humane Society
Project: San Diego Humane Society
Location: San Diego, CA
Architect: BDA Architecture
The polycarbonate skylight that illuminates the San Diego Humane Society's atrium is a great example of preventative, efficient, and beautiful design melded into one. Fire safety was paramount - the original facility had been decimated by a fire, killing over 100 of the animals sheltered there. Additionally, the architect wanted to incorporate as much natural light as possible. When asked about the building's design, BDA's President was quoted as saying, "We want 100 percent adoption policy so it is better for the animals to be perceived in a natural light. We don't want it to look like a doggie jail."
By using Class A fire rated polycarbonate in a curved skylight that ensconced the Humane Society's atrium (note: polycarbonate is one of the few glazing materials that can be curved to a radius), BDA was able to achieve a safe, comfortable environment for all occupants, human and animal.