True Sky Credit Union Canopies | Oklahoma City
Owner: True Sky Credit Union
Architect: Beck Design
General Contractor: Graham General  Contractor
Canopy System Manufacturer: EXTECH/Exterior Technologies, Inc.
Photography: Kenneth Wheeler Photography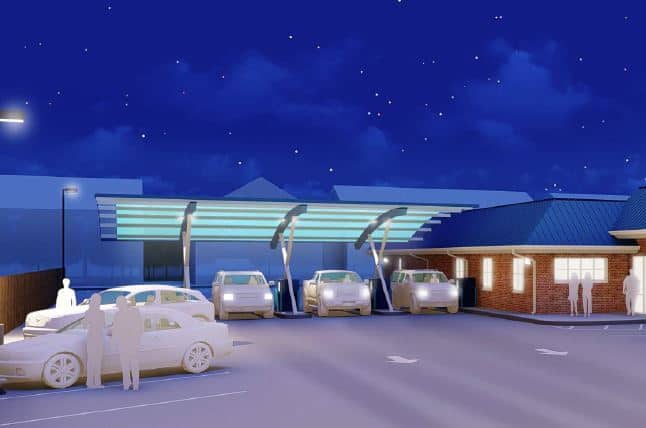 True Sky Credit Union Canopies
True Sky Credit Union recently added 4 new locations to conveniently serve their customers, largely made up of FAA members and air traffic controllers.  The credit union, founded by workers at the Civil Aeronautics Administration, began serving the Oklahoma City region in 1946.
Architect Beck Design Group designed the new branches to resemble an air traffic control tower and airport.  Sky blue branding colors and a lobby resembling a lookout tower are some of these distinct features.
A convenient drive-through feature was added to the new branches for convenient transactions. To keep tellers and customers dry, 4 large canopies were added above the drive-through banking region.
EXTECH manufactured 4 standing-seam polycarbonate canopies for these new branches. Each canopy is nearly identical, with a low-rise barrel vault design and blue 20mm standing seam polycarbonate. The canopies range from 1000-1829 SF and 34' to 60' wide by 30'-4" deep.
The SKYSHADE 3100 is an easy to install and economical canopy system that features standing seam polycarbonate, joined at the panel uplegs with a unique sliding clip and polycarbonate battens. The canopies include aluminum batten end caps, keeping debris out.
Some benefits of polycarbonate canopy systems are high impact resistance, light diffusion, no worries of shattered glass, and weather protection. At the end of their usable life, they are 100% recyclable.
To prevent large sections of snow and ice falling, 5" x 5" snow guards were installed at each sill.   Each triangle keeps the snow or ice suspended until it gradually melts.
Since polycarbonate canopies are lighter than glass, steel, and FRP, less material is required for the supporting structure. The support structure is sloped 6" x 6" hollow steel tubing, leaving the drive-up teller window unobscured by large metal framing.
In the evening, the canopy glows blue from lighting mounted to the horizontal supports.
If you would like to learn more about this project or our SKYSHADE 3100, we're more than happy to chat! Please contact us for more information.