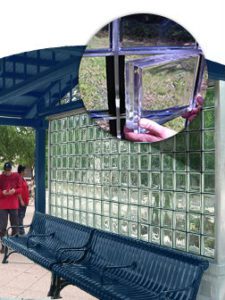 EXTECH/Exterior Technologies Inc. is proud to announce that a U.S. patent has been granted for their 2100GL Snap-In GRIDLOCK Glass Block system. The GRIDLOCK Glass Block System has revolutionized the use of glass blocks in walls and windscreens. Primary applications for this system include transit shelters or windscreens for buses, trains, and other public transportation systems. Additionally, the system can be used for interior partition walls or other decorative applications.
The Snap-In GRIDLOCK Glass Block system was designed specifically for ease of installation and maintenance. The nearly-unbreakable 2" thick solid glass blocks snap securely into place without the use of sealants or adhesives. Unlike traditional mortared systems, should the block break, broken pieces are easily removed and a new block is simply snapped into place...in seconds! Installation and maintenance are quick and easy using EXTECH's lightweight, prefabricated aluminum frames with no exposed fasteners. With no ledges to collect dirt and debris, and superior graffiti resistance, cleaning requires only a simple pressure wash. Unlike mortared systems, joints will not deteriorate, collect dirt or discolor.
Use your imagination to create practical or visually appealing and artistic opportunities. GRIDLOCK framing is adaptable to various opening sizes including long structural spans. The clean, narrow sightlines are available in frames of unlimited colors. Block options include etched or back screened (painted). Clear blocks can provide a high degree of visual clarity, durability, and attractiveness. Whatever you choose, EXTECH's GRIDLOCK Glass Block System offers a solution that is both practical and distinctive.
To find out more about GRIDLOCK, please contact EXTECH.