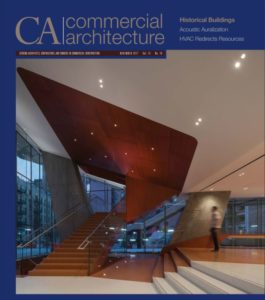 The November 2017 issue of Commercial Architecture magazine features a lengthy profile of the Pathways Innovation Center and Roosevelt High School in Casper, WY - two projects that relied on EXTECH's LIGHTWALL 3440 translucent polycarbonate daylighting system in their design. 
Designed by the Cuningham Group and winner of the Project of Distinction Award from the Association for Learning Environments, the article discusses the intentions of the project, and how one of the main goals was to create healthy learning environments with daylighting. The article also details EXTECH's creation of a dual-wall system that delivers high thermal performance, and customized vertical sunscreens that add light diffusion. All EXTECH systems were designed to withstand the high winds of Wyoming. 
You can read the full profile in the November 2017 digital issue of Commercial Architecture. To learn more about this project, the LIGHTWALL 3440, or our custom capabilities with translucent polycarbonate, please contact us. 
Top image courtesy of Astula, Inc.