Polycarbonate Wall Panels for Commercial & Retail Interior Spaces
Cellular polycarbonate panels can dramatically transform interior spaces. The durable material does not easily show scratches, and paired with lighting effects can provide a glow in a variety of colors. Translucent wall panel systems can be free standing if needed for retail stores, showrooms, or trade shows.
True design flexibility
This amazing material is true design flexibility in action. For example, the Mercedes Traveling Exposition took advantage of our tongue and groove design to create a dynamic display that was easy to put up and take down for travel, durable due to the strength of polycarbonate and produced a beautiful glow when backlit. EXTECH and our specialization in cellular polycarbonate shines in each of those categories. We welcome you to contact us and discuss your unique interior translucent wall design needs today!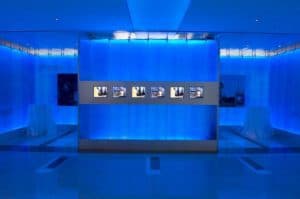 Interior Wall | Samsung Electronics, New York NY
Samsung wished to do an interior display at Columbus Circle in Manhattan. EventQuest suggested double walls separated by 12 inches and lighted in between. One of the design challenges came from the fact that we were not allowed to penetrate either the floor or the ceiling.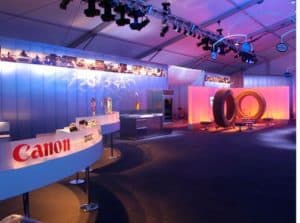 Interior Wall | Mercedes Traveling Exposition
Mercedes was building a traveling display to be used all over the United States for promotion purposes. EXTECH's LIGHTWALL 3440 was an ideal system to be used for this interior application. It is a lightweight and easy to store system, which made it easy to disassemble and reassemble multiple times.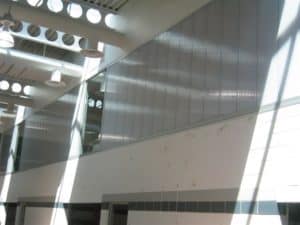 Interior Wall | BMW, Woodcliff Lake NJ
This facility, built in New Jersey by BMW, required interior walls which were transparent in some areas and translucent in other areas. EXTECH adapted our LIGHTWALL 3440 system and designed an adaptive aluminum extrusion to mate glass with tongue and groove cellular polycarbonate.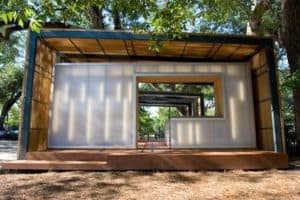 Interior Wall | City Park Botanical Garden Pavilion, New Orleans LA
The New Orleans Botanical Garden at City Park offers a serene retreat from urban life. Nature lovers wander around the lush foliage, play in the open gardens, or relax under the pavilions. This outdoor pavilion incorporates interior translucent wall panels.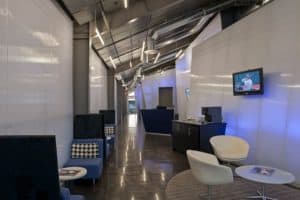 For this project, the architect wanted to install a sleek interior wall. Translucent polycarbonate had already been used for the exterior facade. Since the architect was pleased with the exterior, it was decided to utilize EXTECH's LIGHTWALL 3440 polycarbonate panels system for the inside.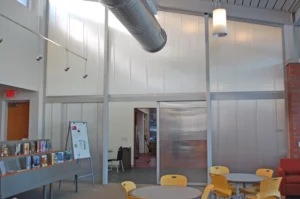 Bridgeville Public Library | Bridgeville, PA
Bridgeville Public Library serves as a community gathering space, with welcoming open spaces for the public. Spaces are separated by large interior translucent walls, offering light and distinction.