The wood cladding look without the maintenance headaches!
Today's storefronts, office spaces, and contemporary homes are often designed with hints of wooden appeal. Why?  Because wood presents a timeless, classic look that connects the structure with nature.
Given its low material cost, a real wood façade can seem like the right choice. That is until you weigh the cost of maintenance- and often, full replacement of the system is required due to rotting, cracks, and mold. You'll soon find that ongoing maintenance may even cost more than the initial installation. On top of these concerns also stems the limitations of a wooden solution. With today's curving design elements, wood can only be pushed so far.
The solution? Simple; a hybrid wood polymer composite system called Geolam™.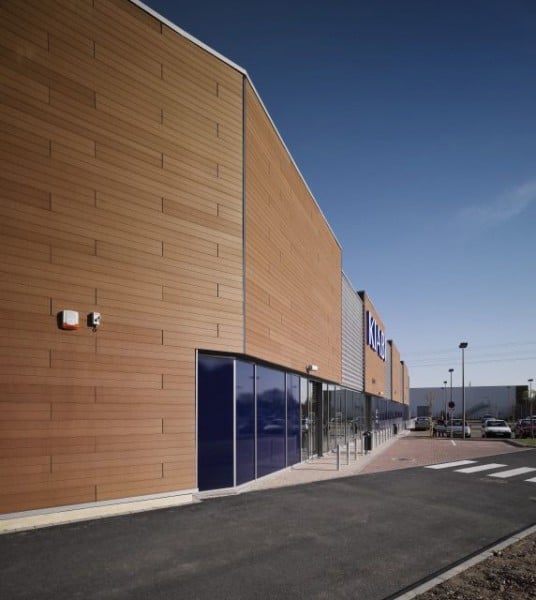 Geolam™ is a hybrid aluminum/WPC (Wood Polymer Composite) product that is an ideal alternative to traditional wood. Made from recycled wood, applications built with Geolam™ are visually identical to traditional wooden structures but are easier to maintain, won't decay, and can be bent to different radii and in different directions, among other benefits. It is an ideal material for building facades and façade trim because of its high durability.
Geolam is created with an innovative and patented hybrid technology that takes recycled aluminum, resin, and wood and extrudes them together under heat and pressure. The combination of these three materials gives Geolam profiles exceptionally superior features - they are three times lighter, four times more stable and eight times more rigid than alternative WPC profiles. All the reasons why EXTECH is proud to be an authorized fabricator and installer of the Geolam products.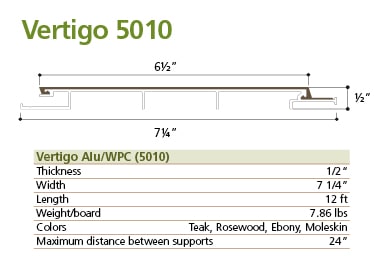 Even better; Geolam™ is made from post-consumer materials and is fully recyclable itself. With it brings the Eco Mark label - a designation given to products that "display a true respect for the planet, guaranteeing among other things, absolutely no danger to human health. LEED credits are also available for these post-consumer recyclables.
Geolam is also extremely easy to maintain and clean. It can even be washed with soapy water or a high pressure-washer. You can't do that with traditional wood! Geolam's surface won't shed any fibers only enhancing it's longevity.
Would you like to learn more about Geolam™? If so you can visit the product page, or contact us!