EXTECH manufactures energy efficient industrial skylights glazed with high-strength cellular polycarbonate.  This material offers insulating value and diffused light, as well as impact resistance. Monumental glass skylights, capable of long spans are also available. Our skylight products include our SKYGARD 3300 and SKYGARD 3700. We can tailor both systems to meet your design needs.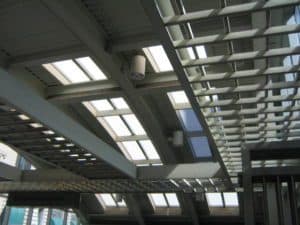 Industrial Skylights | Charles Center Station, Baltimore MD
At this subway entry canopy in Baltimore, EXTECH designed and fabricated curved industrial skylights to match the curvature of the metal canopy roofing using our SKYGARD 3700 system.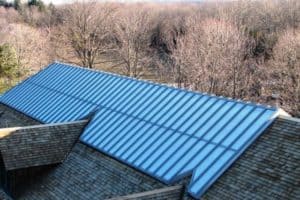 Industrial Skylights | Brant Foundation Art Study Center, Greenwich CT
This is a monumental glass SKYGARD industrial skylight which incorporates German-made insulated glass IG units.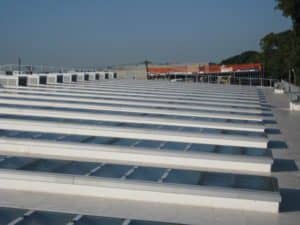 Industrial Skylights | DDC-DEP Remsen Avenue Yard, Brooklyn NY
This was a project involving a large number of long glass industrial skylights. We incorporated over 300 photovoltaic panels.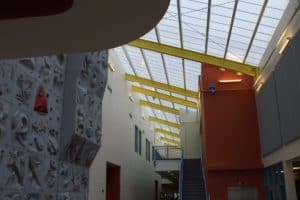 Industrial Skylights | Hanscom AFB Fitness Center, Massachusetts
The monumental industrial skylight over the main portion of the buildings was built using EXTECH's SKYGARD system with standing seam panels. The panels are made from polycarbonate, which delivers comfortable, diffused daylighting perfect for athletic recreation.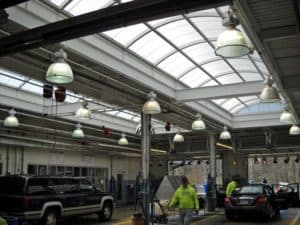 Industrial Skylights | Cleantown USA Carwash, Pittsburgh PA
Standing seam cellular polycarbonate panels were used for these barrel vault industrial skylights. 1-1/2" thick tongue and groove LIGHTWALL 3440 translucent panels were used for the walls of this carwash building.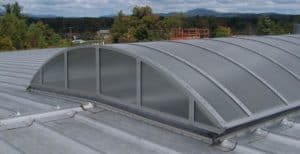 Industrial Skylights | Elkamet, Inc., East Flat Rock NC
This is a long-span barrel vault industrial skylight utilizing 16mm cellular polycarbonate. This EXTECH SKYGARD system is designed with elastomeric membranes which serve as the flashings at the eaves, allowing thermal expansion of the long-standing seam steel roof sheets.