It's easy to order samples from the EXTECH website. Because of this, we often get sample requests from college students who are working on designs where they want to incorporate EXTECH's daylighting systems. We've been getting so many sample requests from students who are working on studio and thesis projects that we decided to start our Student Series, which profiles the next generation of architects and the work they are creating.
Isaiah Miller is currently studying Architecture at the New York Institute of Technology at Old Westbury, and has been accepted into its 5-year Bachelor of Architecture program. Back in May of this year, we sent Isaiah a sample of our LIGHTWALL 3440 polycarbonate translucent wall system. Here is the story of his project, and how he conceptualized an ethereal multicultural arts center for the global community.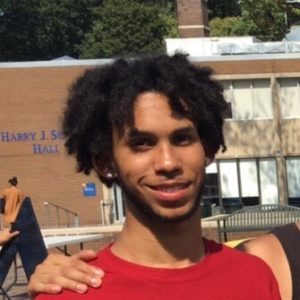 For the second semester final project in his Architectural Design course, Isaiah Miller's class was asked to design a New Multicultural Arts Center for the "Global Citizen." Isaiah decided to create a structure with a façade that "created an identity for the activities the building hosts and a relationship to the character of the transforming neighborhood." He wanted a minimal façade that "allows the neighborhood to interpret as they please," and thus he created a single surface that bent and curved, implying the look of a "mask" for the structure. According to Isaiah, "this mask is partially opaque so that only shadows and figures can be viewed from the outside looking in." Isaiah indicated he was partly inspired by the Chesapeake Boathouse in Oklahoma City, a project for which EXTECH delivered the custom polycarbonate wall system. "I was taken back by the evening photographs that were taken," he says, referring to the Chesapeake Boathouse. "It seemed as if the polycarbonate panels allowed light to emit."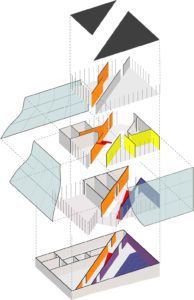 Daylighting was important to Isaiah's design, particularly diffused daylighting. Isaiah says, "[what] I wanted to achieve with the EXTECH system was for viewers to question what exactly is behind the surface. If too much daylight filtered through, then that goal would be practically impossible to reach." Isaiah visited the site then performed a daylighting analysis to determine how to design his application, and which translucency of polycarbonate to choose, to achieve the slightly opaque aesthetic he wanted.  He also used his analysis to determine where to place his apertures. "For the correct amount of light to illuminate the classrooms, I had to strategically place openings," he says.
We asked Isaiah if he encountered any challenges along the way. He says, "The most difficult challenge that I faced during my design process was creating a system for the LIGHTWALL to curve. The resolution to this was to design a frame system that angles itself off the concrete slabs." [Editor's note: EXTECH's LIGHTWALL 3440 system is designed to accommodate curved polycarbonate, as seen with our work at the Holbrook School, among other projects].
Isaiah reports that his project was well-received. "Both my professor and classmates were surprised by how successfully I was able to present my idea, [and] having the [EXTECH] sample in hand really helped." Isaiah's design earned him an A.
We asked Isaiah if he thinks he'll incorporate daylighting or polycarbonate into his future design work. "Definitely," he remarks.  "I enjoyed working with polycarbonate."
 This is the first installment of EXTECH's Student Series, which is based on interviews with students who used EXTECH's systems in their work. If you would like to order a sample like Isaiah did, fill out the form found here and we will ship one right away, at no cost to you.