EXTECH has created custom facades from original design, to fabrication, to installation. By combining our knowledge of architecture and engineering with the creative vision of the designing architect, EXTECH is proud to assist or design for even the most complicated facade project. Our expert staff welcomes the challenge of creating working, unique custom facades that will last for many years to come. We collaborate extensively through the use of full-size mock-ups to help bring your vision to life. While these projects do not represent the everyday basic systems, they showcase the talents and creativity that drives our company. Whether you need basic, easy to install wall systems or custom work, EXTECH has the knowledge to deliver excellence. Our custom facade work takes us around the country, and we are happy to leave our architectural staple in every city we visit.
Kinetic Building Facade | Children's Museum, Pittsburgh PA
This project was a challenge of the type which EXTECH likes.  The vision of the artist called for a custom facade made from small elements capable of flapping on a windy day.  EXTECH designed a system - which later became our KINETICWALL - that accomplished this goal.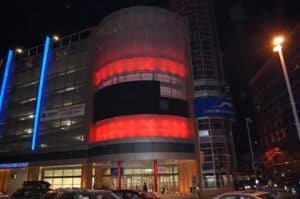 Custom Building Facade | Greyhound Bus Station, Pittsburgh PA
For this custom facade at the Greyhound Bus Station in Pittsburgh, PA, EXTECH used special laminated monolithic polycarbonate panels which are designed to diffuse light. Monolithic polycarbonate possesses a typical thickness of 1/4 on an inch, and is 100% recyclable.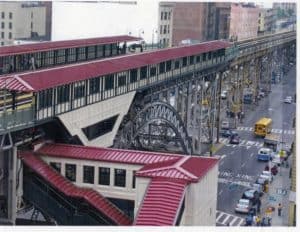 Custom Building Facade | NYCTA 231st Station Renovation, New York NY
EXTECH manufactures custom facades made from metal wall panels for buildings like this and has been making such wall systems for New York City Transit for many years.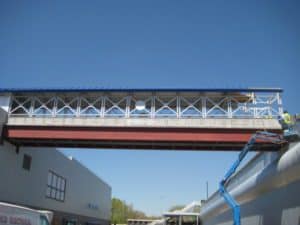 Custom Facade | NYCTA Charleston Bus Annex Pedestrian Walkway, New York NY
This was a custom facade design/build project. The general requirement was for a 238 ft. long pedestrian walkway which sheltered bus drivers as they walked from the parking lot into the annex building.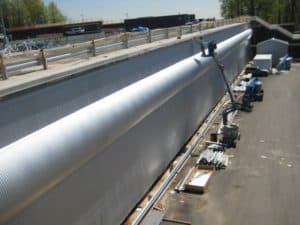 Custom Facades | NYCTA Charleston Bus Annex Great Wall, New York NY
EXTECH was asked to clad a  retaining wall made of pilings. The wall also had steel "walers" projecting from the plane of the wall.
Custom Building Facade | Grand Avenue Bus Depot, New York NY
The Grand Avenue Bus Depot is the world's largest bus maintenance facility, owned and operated by New York City Transit Authority. EXTECH was proud to be a part of this project as we have partnered with NYCTA on many projects.